Britain's Heather Watson is planning an assault on the world No.1 spot after securing her maiden WTA tour title at the Japan Open.
The 20 year old became the first British women in 24 years to claim a WTA tour victory in Osaka, lifting her to a career best 50th place in the world rankings.
But according to Watson, who achieved a career-best finish at each of the four grand slams on the circuit, says she must set new targets for 2013.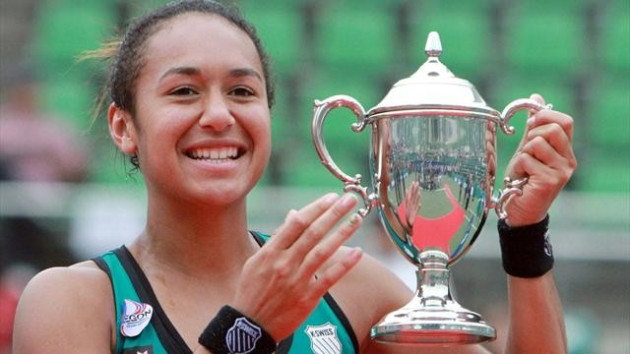 "I set goals for myself every year and I really wanted to get a title this year; it felt like it had been too long since I had won one," she said.
"I've finished on such a high now I feel like I deserve some rest and then I'll be back to work in a few weeks' time.
"To finish this way is great and it's given me the confidence to work hard and for the New Year because I've put in so much work. It's really tough sometimes so to win the title makes it all worth it, it makes all those hours I put in worth it.
"I will set new goals for myself over the next few weeks for 2013. I haven't properly thought about it yet, because I wasn't sure I would make my goal for this year.
"I couldn't have made it any closer than I did and I eventually made my goal of top 50 so I'll be looking at maybe 40, top 30 for the few months of the New Year."
"I definitely believe in myself [on achieving world No.1], I wouldn't be in the game if I didn't think I have the capability to do it.
"I have the mental toughness to do it, I have the game to do it but all these girls think the same thing so it's about who can do it and whose going to do what it takes to do it."
Watson's victory in Osaka caps an encouraging 2012 for British tennis, following Andy Murray's Olympic gold medal and first grand slam win at the US Open, while Laura Robson claimed an Olympic silver medal, reached the fourth round at Flushing Meadows and reaching her first WTA tour final at the Guangzhou Open.
The 18 year old missed out on her target of finishing the year in the top 50, but Watson says the rivalry between the two is healthy for the future for British tennis.
"I think we benefit each other and we help push each other, we're good friends of the court and we're both very competitive on the court," Watson added. "When we see each other doing well I'm sure it definitely pushes us to do as well or even better than the other.
"We have been starving a bit of a female player to come through," Watson admitted. "Anne [Keothavong] and Bally [Elena Baltacha] have been doing so well and at the moment me and Laura are coming through and are at the beginning stages of our career and it's exciting.
"We have Johanna Konta who is doing very well and it's looking exciting for British tennis now."