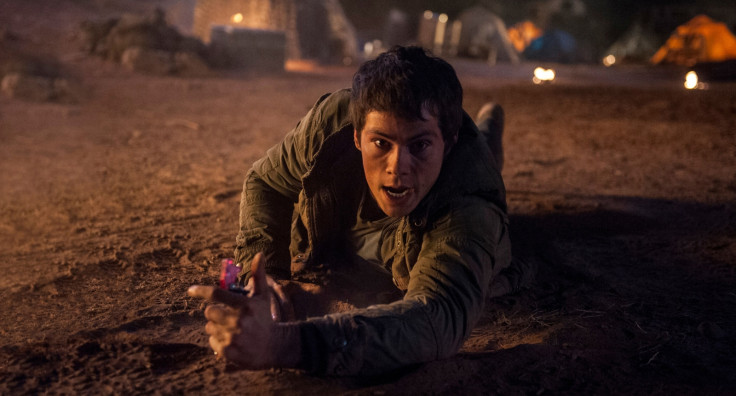 Dylan O'Brien's first image – following his accident on Maze Runner 3 sets back in March – has surfaced on the internet. The Teen Wolf actor was spotted at a Jamba Juice shop in Sherman Oaks, California, on 1 August.
O'Brien sported a bearded look, with a casual brown t-shirt and capri pants. Twitter user @VanessaDenegri tweeted, "Guys I just met Dylan O Brien he just walked into Jamba Juice and I took his order I'm crying." The Twitter user also posted a picture with the actor and wrote, "My life has been made, meeting you was the best thing ever @dylanobrien."
The user also revealed that O'Brien looked different and added, "He laughed and smiled when I said he looked different." This was the 24-year-old actor's first appearance since his injury on the sets of Maze Runner: The Death Cure, back in March.
And, because of the actor's injury, Maze Runner: The Death Cure – which was scheduled to be released in 2017 – has been pushed back to 2018. The actor will also appear in MTV series Teen Wolf as fan favorite Stiles Stilinski.
As previously confirmed, Dylan will be a part of Teen Wolf season 6 and will play a prominent role this season. Teen Wolf showrunner Jeff Davis told Entertainment Weekly, "Stiles is a big part of the season because a lot of this season's mystery revolves around him. We're going to see just what Stiles's friendship means to Scott, Lydia (Holland Roden) and Malia. We're going to see why exactly he's Scott's best friend; what it means that he's Malia's human anchor; and what his will-they-or-won't-they relationship is with Lydia."
The executive producer also added, "When we were going into discussing this season, knowing that Dylan O'Brien had a big movie he was going off to do, we wanted to make sure that Stiles was going to be a very important part of Teen Wolf 6A. So a lot of this story is about Stiles."
Teen Wolf season 6 is rumoured to premiere on 15 November on MTV network.