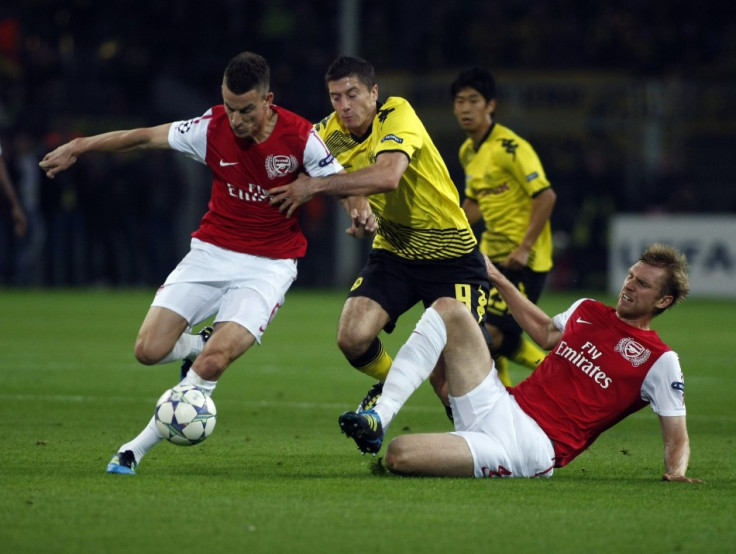 Arsenal legend Ian Wright believes Arsene Wenger needs to bring in another centre-half because he retains fears over the inconsistent form of Per Mertesacker.
The towering German international was brought to Arsenal from Werder Bremen in August but despite his pedigree, illustrated by the defender's 79 caps, the 6ft 6inch Mertesacker has struggled to adapt to the rigours of the Premier League and is yet to win round the Emirates faithful.
Mertesacker's malaise at Arsenal has coincided with Laurent Koscielny's marked improvement for Arsene Wenger's side, but although Wright recognises the strides made by the aforementioned French defender he believes the Gunners are perhaps still a little short of centre-backs.
Wright fears an injury sustained by either the 'vital' Thomas Vermaelen or Koscielny could leave Arsenal exposed at the back given the continued frailties of Mertesacker.
"Thomas Vermaelen is vital at the back and Laurent Koscielny has been hugely impressive." The Arsenal legend told The Sun.
"Yet I do think they still need someone else back there because Per Mertesacker does worry me at times."
Although Wright suggests Arsenal need to spend money next month on a defender, the football pundit intimates Emmanuel Frimpong has the capacity to save the Gunners a "few million".
The former Arsenal and England striker suggests the tough-tackling midfielder, who is in line to start Tuesday night's Champions League tie against Olympiakos, is already good enough to compete for a place, even though Frimpong has been linked with a possible loan move away from the Emirates in January.
"When Jack Wilshere is back bossing the midfield, having Emmanuel Frimpong alongside would save Arsenal a few million in the transfer window." Wright added.
Like many Arsenal fans, Wright admits he has revelled in the club's stunning revival this season, so much so, the charismatic Highbury hero believes a top four finish would rank amongst Arsene Wenger's greatest achievements during his remarkable tenure in north London.
"Arsenal have enjoyed some unbelievable triumphs in the 15 years Arsene Wenger has been boss." The Gunners hero said. "But if they finish this season in the top four, it will be up there with Wenger's greatest achievements during his reign."