The United Nations Human Rights Commission has urged the Philippines to launch a murder investigation into President Rodrigo Duterte over his claims that he killed three people as mayor of Davao City. There are also calls to examine the "appalling epidemic of extra-judicial killings" committed during the anti-drug crackdown he has launched since becoming president in June 2016.
Duterte told a gathering of businessmen that as mayor of Davao City he "personally" killed criminals as he prowled the streets. He later admitted killing three men involved in a kidnapping case during a police gunfight in the late 1980s – although he further clarified that he was unsure whether the bullets from his M16 rifle killed the suspects. The photos in this gallery show Duterte handling machine guns in the 1980s and 1990s.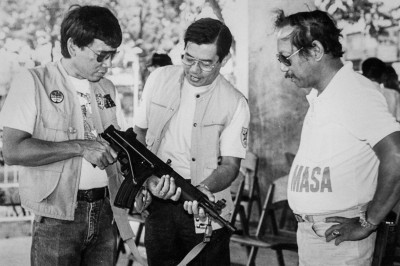 The brash-talking president suggested that he used to roam around his sprawling city as mayor on a big motorcycle to look for criminals to kill so policemen would emulate him. "In Davao, I used to do it personally. Just to show to the guys that, if I can do it, why can't you?" Duterte said. "I go around in Davao with a motorcycle, with a big bike around, and I would just patrol the streets looking for trouble. I was really looking for an encounter to be able to kill."
Justice Secretary Vitaliano Aguirre II has defended Duterte, saying the president often exaggerates killings of criminals to send a chilling warning to lawbreakers.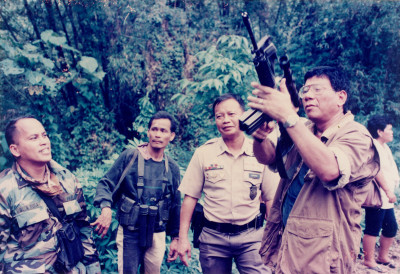 Duterte has also revealed that he once threw a suspected kidnapper out of a moving helicopter when he was mayor of Davos City. After visiting areas affected by Typhoon Nina, Duterte gave a speech at the Camarines Sur provincial capital, during which he elaborated on his plans to crackdown on corruption within the government. "If you are corrupt I will fetch you with a helicopter and I will throw you out on the way to Manila," he said. "I have done that before, why should I not do it again?"
The president has brought the iron-fist approach he used to rule Davao to the capital Manila. Since taking office in June, Duterte has obsessively overseen the crackdown on illegal drugs that has left more than 6,000 people dead. About a third died in police anti-narcotics operations and the rest were killed by motorcycle-riding masked men and vigilante groups.
The former crime-busting mayor of the southern city of Davao had said that the war on drugs would be over within six months but has since pushed back the deadline. Last month he said that he will continue "until the last pusher drops dead".