HIV: 'I realised I had brought it upon my wife – I had killed her'
Nelson Wanyama started playing football at the age of 12 in his hometown of Eldoret, western Kenya. "I became interested in the game because my family played a lot and I had a passion for it," he says. "All children who love football have the ambition of playing at the highest level for their country." He played football at every opportunity while studying at primary and high school, and started playing in his local league in 1987. Money was tight at home and the game provided a release. Wanyama was called up to play for the national team when he was 20.
"I was moving from city to city and I was a young man with money," Wanyama says. From his humble background, the lifestyle of being a professional footballer was completely different to everything he had known before – he had money and people knew his name. "When playing football you are paid and you aren't going hungry."
Wanyama began to have relationships with women in each town he visited, but never used protection. None of his teammates thought about HIV. "There was a lot of talk, but we thought it would never happen to us." His unprotected promiscuity was fraught with danger: since HIV was first detected in Kenya in 1984, it has grown to become the fourth-largest HIV epidemic in the world, according to the charity Avert. The UN estimates that around 1,400,000 people were living with HIV in 2014, and Aids was the cause of 33,000 deaths in the same year.
Wanyama met Rose when he was 22 in 1995, after several years of enjoying his celebrity status. "I used to like to go dancing and drinking, and I met her on the dancefloor," he says, laughing. Although Rose found his frequent absence occasionally difficult as he toured the country, she understood him, and the couple were happy. They married just over a year after they met and had twin boys, Brian and Bernard.
In October 1996, Rose became ill. At that time, HIV was shrouded with stigma, and although she was taken to hospital, she was never treated properly. She suffered for eight years before she died. "Only then did the doctors tell us it was HIV," Wanyama says. "I didn't find out until I had lost her."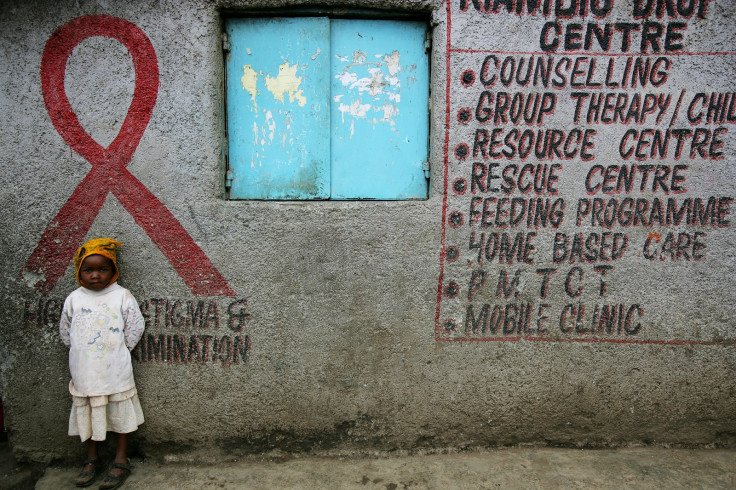 Wanyama fell into a deep depression, unable to cope with caring for his two young children alone. It was his mother who eventually encouraged him to get tested six months after Rose's death. "After I was diagnosed, I realised I had killed my wife. I realised it was me that had brought it upon her."
Wanyama felt heavy with guilt and shame, and isolated himself from his family. "I was depressed, and also feared stigma – you want to hide from everybody because you think everyone is talking about you," he says. But with encouragement from his mother, he began to open up to others. Wanyama decided he wanted to speak to others about his experience, first sitting down and telling his two children about the disease that had killed their mother. "They told me not to feel guilty." Wanyama says their support gave him the strength to talk to others about HIV.
"There was a lot of stigma because so many people had limited information about HIV and Aids. But when people like me come out and talk about our experiences it lowers this stigma. There is an attitude change for the positive. People see us living. It encourages more people to talk about it. So many people want to hide but it's dangerous – it allows infections to spread," Wanyama says.
"I was trained to speak publicly about myself and I became a role model. So many groups wanted me to speak and schools wanted me to come and talk to the children," he says. "I was changing things and it made me feel good." Wanyama still thought about his time as a footballer and began to work with Tackle Africa, an NGO that teaches about HIV through football coaching.
Although Wanyama's lifestyle is very different and he is less financially comfortable than before, he is happy again. In 2006, he married Mwainadi and they now have an eight-year-old son – neither have HIV. He also receives farming and livestock training from the international development charity Send A Cow, which works across Africa.
"HIV is manageable," Wanyama says. "It is not [now] a killer disease like people used to think. When I speak publicly it changes so many things, like acceptance. The more people I talk to the more lives I can change."
© Copyright IBTimes 2023. All rights reserved.