The worst prison riots in 20 years were triggered by cold showers, it was claimed on Sunday. According to reports, the 600-strong group which took over four wings of the prison before it was quashed, had escalated from a group of six prisoners for whom a lack of hot water was the final straw.
Reports on Saturday suggested the protest had been about poor conditions, after several men claiming to be inmates at the prison contacted the BBC, citing inadequate staff numbers, poor healthcare and nutrition as concerns.
On Sunday, The Times quotes a source as saying the cold showers were "the straw that broke the camel's back".
The riot began at around 9.30am on Friday, involving a small number of prisoners. The situation escalated after an officer who intervened was overpowered by inmates who threatened him with a hypodermic needle and took his keys, according to The Times.
A source is quoted in The Times as saying: "Once they had the keys, the officer had to withdraw and it was, 'Let's go party – we have got the wing to ourselves'."
Before long, the prisoners are said to have gone on a spree, unlocking doors to release other inmates, burning files and commandeering riot gear. The riot went on until 10pm some time after G4S – the contractor charged with running the facility – asked the Ministry of Justice to intervene.
Though Justice Secretary Liz Truss said that those involved would "feel the full force of the law", Whitehall sources appear to have played down the incident.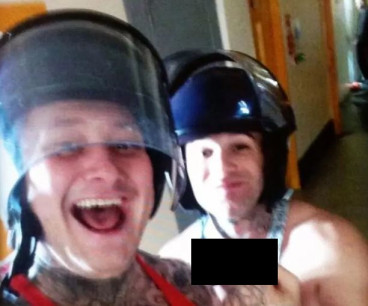 One claimed that only 300 inmates were actively involved in the riots, with the other 300 just returning voluntarily to their cells after they were released.
Another said: "Given how many prisoners were on these wings the damage was minimal in terms of injuries… the tells you, it was not a mass protest."
Though the last independent inspection of HMP Birmingham in 2014 found drugs to be widely available in the prison, other than this the inspectors felt the prison was well managed.
However, Mike Rolfe, national chairman of the Prison Officer's Association said: "We've been warning for a long time about the crisis in prisons and what we are seeing… is not unique to Birmingham, but it certainly would seem this is the most recent worst incident since Strangeways."