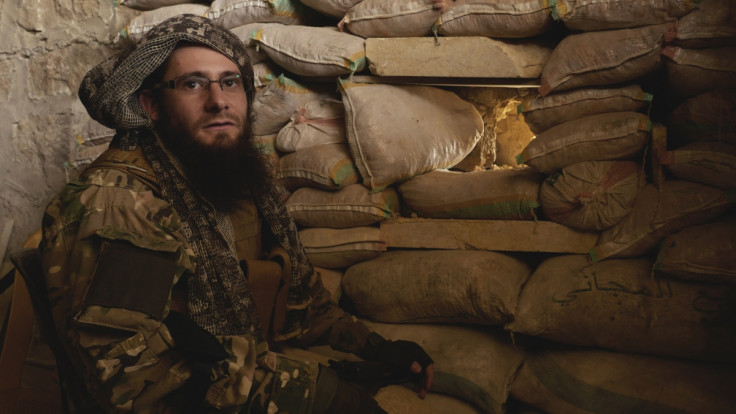 The son of a Hollywood film director who became the first white British convert to fight for al-Qaeda in Syria is preparing to become a suicide bomber, an extraordinary new documentary is to reveal.
Lucas Kinney, a former Catholic boy who once had ambitions to become a priest, is one of four would-be suicide bombers who were followed by Norwegian filmmaker Paul Refsdal over a six-week period in 2014 and 2015.
In an interview with IBTimes UK, Refsdal said Kinney, who was born to middle-class parents in London, had put himself "on the list for martyrdom operations" after having joined al-Qaeda group Jabhat al-Nusra. The 26 year old, who was schooled in the Home Counties, is now said to be waiting to be told by senior al-Qaeda commanders what operation to carry out, describing the chance to launch a suicide bombing as his dream.
Refsdal, who gained rare access to Kinney and other al-Qaeda militants in Syria, explained al-Qaeda's bureaucratic process behind deciding who gets chosen for a suicide mission. He told IBTimes UK: "If you want to do this kind of operation, you put your name on a list and wait your turn. There's usually a two-year queue – it's not like Islamic State where they just pour out these young kids.
"The British guy [Kinney] has put himself on the list. I know he has a mother in Britain who is very concerned. I can say he is certainly not on the top of that list. As far as I know, he is still alive."
Kinney, who changed his name to Abu Basir al-Britani, made headlines last year when he emerged in a series of propaganda films for al-Qaeda, calling for Muslims to join the terrorist group in the fight against Islamic State (IS) and the Assad regime in Syria. The Leeds University student was raised by middle-class parents, who later divorced, and even at one point played electric guitar in a rock band.
His father, Patrick, 59, is well-known in Hollywood circles having worked as assistant director on blockbuster films Braveheart and Rambo, and alongside Steven Spielberg on Indiana Jones and the Last Crusade.
On hearing the news her son had joined the terrorist group, his mother, Deborah Phipps, 53, said in October she feared he would either be killed in a drone strike or become a suicide bomber. Living with her second husband in the West Country, she said: "We just want him to come home."
But a clip from Refsdal's upcoming documentary – called Dugma: The Button, to be released in March – has since shown Kinney a far cry away from returning to the UK, and instead dressed in full combat fatigues and preparing to become a suicide bomber.
Introducing himself to the camera, he says in a well-spoken British accent: "Originally I'm from Britain, I was born in London. My father is American, my mother English. My dream is to make martyrdom operation. God willing."
He goes on to wrestle with the "heavy" decision to put himself forward for an al-Qaeda suicide attack, saying: "The physical action is very easy – you go, you drive, you press the button. But how many put in this position can actually press the button, knowing that you're departing to the meeting with Allah? This is something very heavy."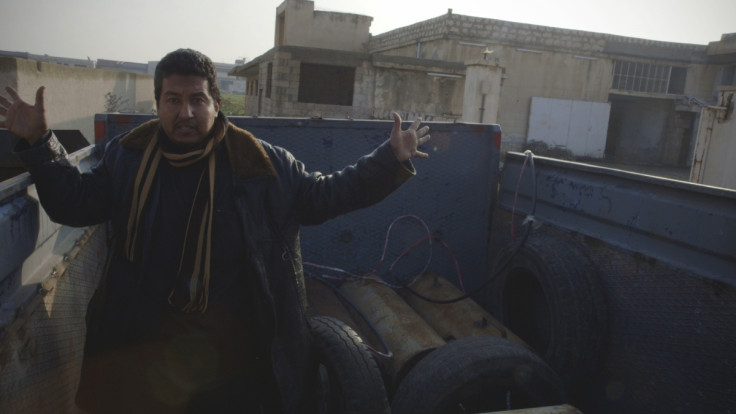 Refsdal filmed Kinney and other militants over two weeks in 2014 and four weeks in the summer of last year after convincing al-Qaeda commanders to let him embed with their "footsoldiers". The 52 year old, who was held hostage by the Taliban in 2009 while making an award-winning documentary in Afghanistan, says he wanted to show the "real lives" behind the people regarded by many governments as dangerous terrorists.
"Everyone has the right to have their story told," he said. "My purpose in documentary filming is to show the real lives of people regarded as enemies. This is not a propaganda piece and it's not trying to tell people what to think."
Jabhat al-Nusra, which is engaged in fierce fighting with Islamic State (IS) and pro-Assad forces, is designated a foreign terrorist organisation by the UK and the US. The Sunni Islamist militia aims to establish an Islamic caliphate in Syria and has attracted hundreds of Westerners to its cause. This included another 26-year-old London-born fighter, who adopted the same nom de guerre as Kinney, and was reportedly killed in November 2015 in Latakia, Syria.
Kinney is thought to be the first white British convert to be fighting for the group, and has been described as "al-Qaeda's white poster boy" due to his appearances in the terrorist group's propaganda films. Saying it took some time before he got close to him, Refsdal revealed he grew to like the softly-spoken jihadist despite disagreeing with some of Jabhat al-Nusra's ideology.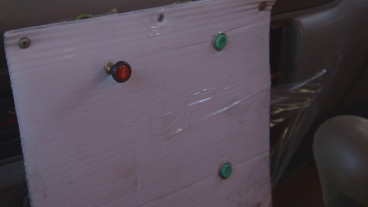 Knowing him as al-Britani, the filmmaker said Kinney would spend time worrying about his new wife and the family members he left behind. "I think it was hard for him. Even when you feel you're trying to do the right thing, it's difficult when you leave family behind and are in a place where you don't have your friends."
Kinney and his family lived in Saudi Arabia after his stepfather was offered a three-year posting there. He later schooled in Egypt when the family moved to Cairo.
Growing his hair long and playing in a rock band, he went on to study Middle Eastern Studies with Arabic at Leeds University in 2009 before dropping out after a year. But it was when he then moved to Vienna to live with his father that he is thought to have become radicalised. He then smuggled himself into Syria.
In an October 2015 interview with the Daily Mail, his mother said: "I last heard from him recently. I don't get anything for months and months and then all of a sudden I get an email and every time I think, 'Well, at least he's still alive'. That's the relief. He's married out there. I don't know anything about her. They don't have any children as far as I know, but this is recent, the last few months. We just want him to come home. If he's done something wrong I'd like him to accept the consequences. He's still young – and at least he's still alive."
The extraordinary journey from a white Catholic boy from Britain to an al-Qaeda suicide bomber is just one of four stories told in Refsdal's film.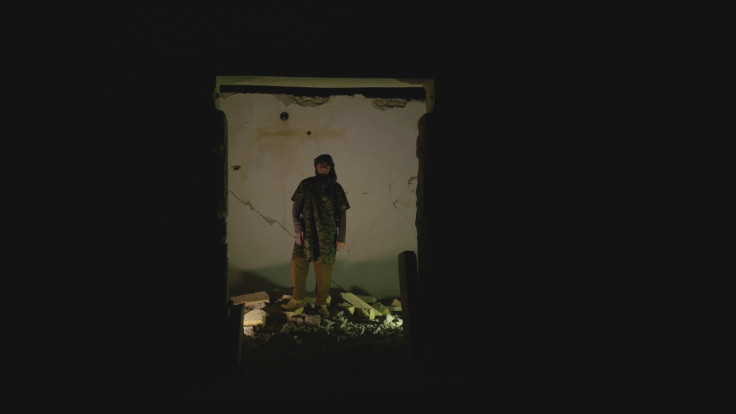 Dugma: The Button also follows a Syrian baker who turned into a militant fighter when street protests during the initial uprisings against the Assad regime suffered a brutal crack-down by government forces. Another would-be bomber is an Alawite captured by Jabhat al-Nusra before later escaping. He then decided to convert to become a Sunni Muslim and rejoined his captors as a fighter, later putting his name forward to blow himself up.
But it is the fourth and final suicide bomber – a 32 year old from Saudi Arabia – who may have the most controversial role in Refsdal's film, with him possibly having already carried out his deadly attack. The film captures the moment militant Abu Qaswara, father of two including a one-year-old daughter, reveals to Kinney he had been chosen by al-Qaeda commanders for a suicide bombing on a hospital, said to be occupied by soldiers. He greets the news by saying: "Thank you, Allah."
Footage then shows Qaswara give Refsdal a guided tour of a heavily fortified truck packed with explosives and protected by armoured plating. He says to the camera: "The detonating cord is connected to the button [or 'Dugma'] inside. In an urban area the explosion will go forwards and to the sides. Everything will be flattened.
"When I get close to the target, I will pull the safety switch. And I keep going until I'm a few metres away from the target, then I pull out the second safety switch. This is the button. I push it and, with Allah's permission, I send them to hell."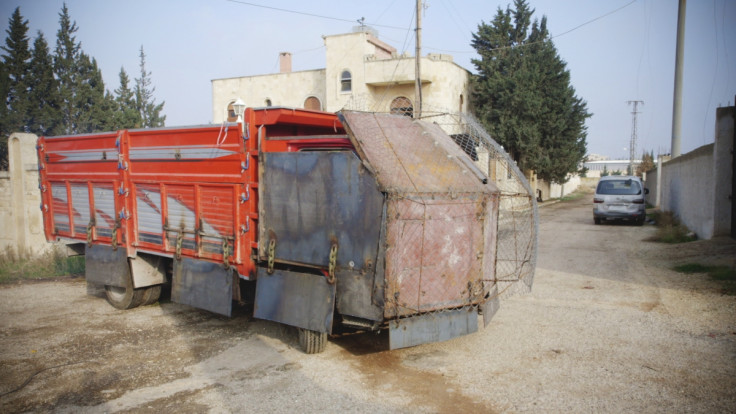 Refsdal, who filmed in the Aleppo and Idlib provinces, would not reveal whether Qaswara carried out the attack but said the documentary would show the outcome when it is released by Journeyman Pictures in March.
Despite being surrounded by people many government's consider dangerous terrorists – and who just this month reportedly took hostage two journalists – he says he seldom feared for his safety while filming and was treated well.
"Obviously I was kidnapped in Afghanistan and eager not to make the same mistake twice," he said. "But Syria is quite different. I wasn't really concerned while I was filming. I knew who to trust and who not to trust.
"I first approached the group in 2013. They asked me to write an application – almost like a job application – putting down what kind of film I wanted to make and who my target audience was, which I said was Muslims and non-Muslims who didn't sympathise with their group."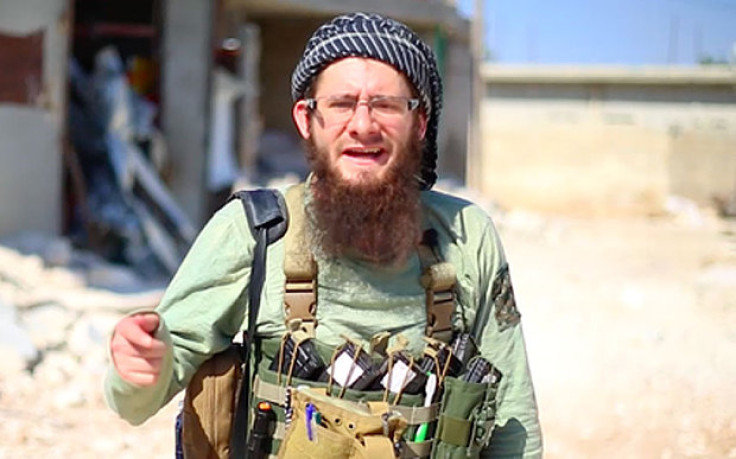 Refsdal says he came across the group of four would-be suicide bombers, including Kinney, "by accident" after meeting Abu Qaswara. He said the day-to-day life of the militants will surprise viewers, as well as their hatred of other extremist groups including Islamic State.
He said: "When people see the film they will quickly forget they are watching al-Qaeda. My film aims to grasp what kind of people these are, seeing them as human beings. I didn't want to follow the commanders but rather the footsoldiers. When you get close to them it's surprising how really relaxed they can be. I found they had a lot of humour, making jokes all the time.
"I was also surprised at just how much they hated Islamic State. They call them the extremists and said they were disgusted by reports of Yazidis being taken as slaves by IS fighters. I also expected them to hate the US and their bombing campaigns in Syria but at times they would defend the Americans because they didn't target civilians."
Since Refsdal left Syria to put the finishing touches to his documentary, still in the editing phase, the militant group continues to fight to gain control of provinces in the north of the country. Concerns have been raised by some experts that the group's potential in the region has been ignored as air strikes focus on IS forces.
Jeff Weyers, a researcher with the Tactical Decision Making Research Group at the University of Liverpool, previously told IBTimes UK the group could begin to launch more radical attacks as its territory in Syria is squeezed as the result of international peace talks, from which it has been banned.
He said: "If they do start to come to a negotiated deal, you have Jabhat al-Nusra that still retains a large portion of an entire province, and I can't see any situation in which they will allow al-Qaeda to have a province in Syria, at least from Western perspective. When pressure starts to build on them in Syria, that is when you will see al-Qaeda perhaps start to commit external attacks, to send the message to leave us alone."
Dugma: The Button is out in March and published by Journeyman Pictures.