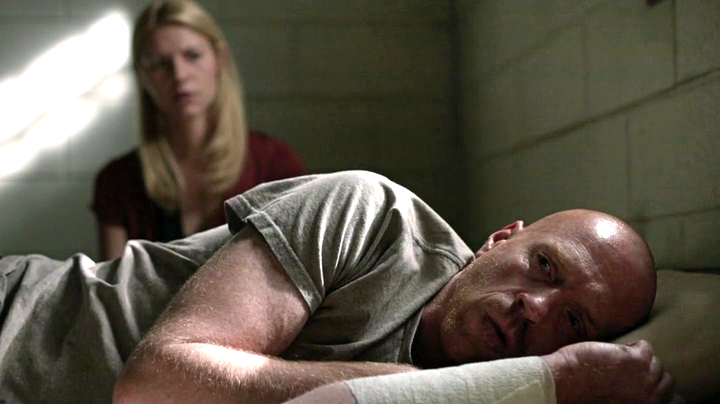 Various pieces finally clicked into gear in this week's episode of Homeland, One Last Time, as the second phase of Saul's (Mandy Patinkin) master plan was unveiled, and Carrie (Claire Danes) and Brodyn (Damian Lewis) were reunited. Despite reservations still over the direction the writers are taking Carrie, as well as a poorly executed scene between Brody and Dana (Morgan Saylor), this was a much stronger instalment of the show than we have seen so far this year, setting up Brody with a chance at redemption in what is bound to be a thrilling final three episodes.
When we discovered last week that Saul was well aware of Brody's whereabouts, and visited him holed up on heroin in Caracas, I presumed he was either keeping him hidden so that his plan for Javadi could be enacted, or would return Brody to face trial on US soil, one final achievement to rub in the nose of Senator Lockhart (Tracy Letts) before abdicating the CIA throne.
But what the grizzled director plans is far more ambitious (read preposterous), wanting to clean Brody up before sending him in to assassinate the head of Iran's Revolutionary Guard, allowing their new pawn Javadi to succeed his position. As I mentioned earlier this week, the whole Iran storyline from this season has been knocked completely out of step after the real-life breakthrough negotiations between the US and Iran in Geneva last week. Saul's urgent need to have Javadi spark a dialogue between the two antagonistic countries all of a sudden doesn't feel that important.
Natural born killer
But lack of authenticity aside, the episode was an acute examination of Brody's role as a marine, a man whose whole life has been spent carrying out the orders of who ever is controlling him. The parallels between his new mission, being sent in to Iran a mole to kill a high ranking official from the enemy country, clearly echoes how Brody was first used by Abu Nazir (Navid Negahban) in season one. We even have flashbacks to the al-Qaeda chief whilst he's being handled by Saul, and a hallucination of old friend Tom Walker (Chris Chalk), the other marine who was converted by Nazir in to working for the other side.
Brody wants nothing to do with it, insisting he'd rather die than take part in their games anymore, and so Carrie is drafted in to convince him to become a marine once more. The scenes between them (an element sorely lacking from this season) contain the usual chemistry, but also a great ambiguity over the status of their relationship.
In the season two finale they finally confessed their feelings for one another, and then the world effectively collapsed around them. Now Carrie is tender but also distant, caring for Brody but not letting him know about her pregnancy, whilst Brody is determined yet bitter, willing to conduct the mission but angry over Carrie letting him see, but not speak, to Dana.
Excruciating encounter
When he is finally allowed to meet Dana, their encounter, what is supposed to be the emotional climax of the episode, is unfortunately a rather excruciating affair. Ignoring the absurdity of allowing America's most wanted to go to a motel in the middle of the night to speak to someone who not only is unaware of his mission but tried to kill herself because of him, the whole scene is nauseatingly stale and unaffecting. Brody is desperate to see Dana, but can only proclaim to her his innocence, whilst her reaction is to just yell and ask to never see him again. It was a boringly predictable exchange, one that provides no further insight into how Brody's absence, or Dana's hospitalisation, have effected their relationship.
The episode's best moments were found with Brody at the boot camp, training with a bunch of identikit beefy and beardy marines that recalled the first episode of that other Damian Lewis-led TV show, Band of Brothers. Due to the revelations that Lockhart was using Alain (William Abadie) to spy on Saul, the CIA director manages to get extended time to bring the marine up to speed. But now he's about to be thrown in to the lion's den as he's whisked off to Iran.
Whilst how he'll assassinate the leader of the Revolutionary Guard remains unknown (hopefully he doesn't have a pacemaker), the fresh scenario, plus the promise of showing Brody as an anti-American hero in Iran and having once more to hide his true identity, should provide a fascinating finale.
Previous Episodes
Episode 8 Review - A Red Wheelbarrow
Episode 6 Review - Still Positive
Episode 5 Review - The Yoga Play
Episode 3 Review - Tower of David
Episode 2 Review - Uh... Oh... Ah...