Homeland will take a break this week and return with an all new episode next week on December 7<sup>.
The 10<sup>th episode is titled, 13 Hours In Islamabad, which promises to be an explosive one.
The official synopsis reads: "The security breach at the Embassy has far reaching consequences."
The 9th episode was a cliffhanger and fans are left with a question - Are Carrie and Saul alive?
There's Something Else Going On revolved around the release of CIA chief Saul Benson and the hidden plans of the Taliban group. The episode ended with Haqqani and his soldiers entering the American Embassy through a secret tunnel.
The tunnel's location was leaked by Ambassador Boyd's husband, Dennis to Pakistani ISI double agent Tasleem Quresh, which will lead to a security breach.
The episode started with the much awaited and highly risky prisoner exchange between the CIA and the Taliban.
CIA officer Carrie Mathison, Ambassador Martha Boyd, and CIA Director Andrew Lockhart free five Taliban soldiers under US custody in exchange for Saul Benson.
Although the exchange is a success, it is short lived as Haqqani has different plans for the CIA agent.
On the way back to the embassy, the three-car convoy transporting Saul and Carrie is struck by two rockets from a rocket-powered grenade. The episode ended with the convoy getting shredded to pieces with them in it.
Are Saul and Carrie dead?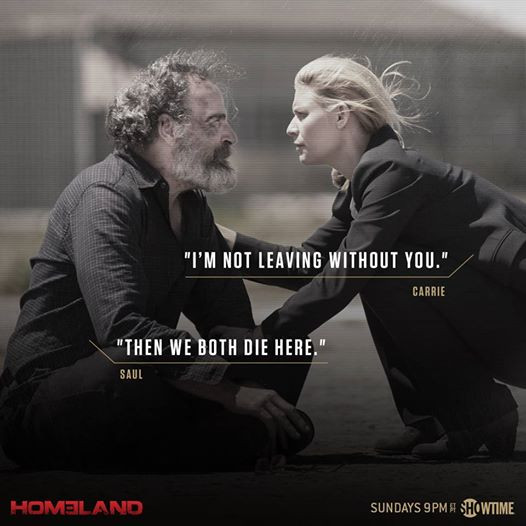 While viewers saw only the damaged convoy during the final moments of the episode, a new report suggests that the show's front-runners are going to be okay.
Earlier this month, the New York Daily News published stills of Mandy Patinkin and Claire Danes filming a "violent gunfight" scene in Cape Town, South Africa.
We can see bearded and bloodied Patinkin, joined by an equally battered Claire Danes as they are snapped filming a scene for Homeland Season 4 in Cape Town, South Africa.
In both the pictures, they are sporting head wounds while surrounded by wreckage which looks similar to the convoy in Sunday night's episode. This implies that they are alive.
Homeland's 13 Hours In Islamabad, airs Sunday, December 7, at 9 pm EST on Showtime.
Besides, Showtime Networks is airing the entire season of Homeland tomorrow, called Homeland Marathon, starting at 3 pm.
Click here to watch the episode online and click here to visit Homeland's official page on the Showtime website.
Watch a promo here: