Supernatural season 10 was previewed to be the most difficult season for the Winchester brothers and the series started on a high note.
In the season 9 finale, Metatron killed Dean who was born again as a demon, Knight of Hell, all thanks to the Mark of Cain (the power source from The First Blade that provides the bearer of the mark with strength and other abilities).
The 10th season of the hit CW show found the Winchester brothers on an emotional roller-coaster ride. Dean, having turned demon, is wrecking havoc in bar fights, with Crowley as his side kick in the premiere episode. On the other hand, Sam goes into the dark while searching for his brother.
By the second episode, Sam tracks down Dean, and kidnaps him to cure his demonic side. While doing so, Dean nearly kills his own brother.
Season 10 was promised to be a "year of Deanmon", and fans of the show were disappointed when Dean was cured in the third episode titled Soul Survivor.
After Dean was cured, the writers wrote off the Mark of Cain angle, which is an important aspect in the story. As in episode 6, titled, Ask Jeeves, Dean killed a maid shapeshifter, by pumping several bullets into her unnecessarily.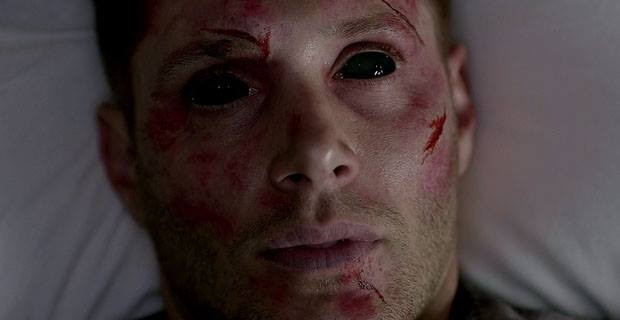 Dean's (Jensen Ackles) demon side may be dormant for now, but the Mark of Cain is still threatening to turn him into something he does not want to be. As a Knight of Hell, he may just repress his demon side, rather than being cured of it.
Supernatural's midseason finale titled, The Things We Left Behind, will re-evaluate the Mark of Cain on Dean's hand.
According to reports, the episode will put Dean's problem back on the table, reintroduce Claire Novak, mention John Winchester, and potentially deal with Castiel's failing grace, apart from containing a shocking twist.
TV Line reports that the elder of the Winchester brothers, will finally make a decision about the Mark of Cain before heading into the winter hiatus.
According to the episode synopsis, "Castiel (Misha Collins) finds Jimmy's daughter Claire (guest star Kathyrn Love Newton) in a group home and she convinces him to break her out. After she runs away from him, Castiel calls Sam (Jared Padalecki) and Dean (Jensen Ackles) to help find her before she gets into trouble. Meanwhile, Crowley (Mark A. Sheppard) faces his biggest challenge yet."
Previously, Executive producer Jeremy Carver teased that the Mark of Cain will play an important role in the rest of the season.
Carver told TV Line that fans are going to get to watch Dean deal with his demon nature "for the next chunk of the season". But the brothers will be handling Dean's dark alter ego in different ways.
"While we're all very happy he was cured of being a demon, there's a lot more work to be done," Carver said, adding that the haunting mark could lead Dean down a very emotional path. Just so long as it's not down the road leading to Sam's demise... We're still not over Dean trying to kill him!"
Will Dean give in to his dark side and turn demon again?
Watch the fall finale episode that airs on Tuesday, 9 December on the CW.