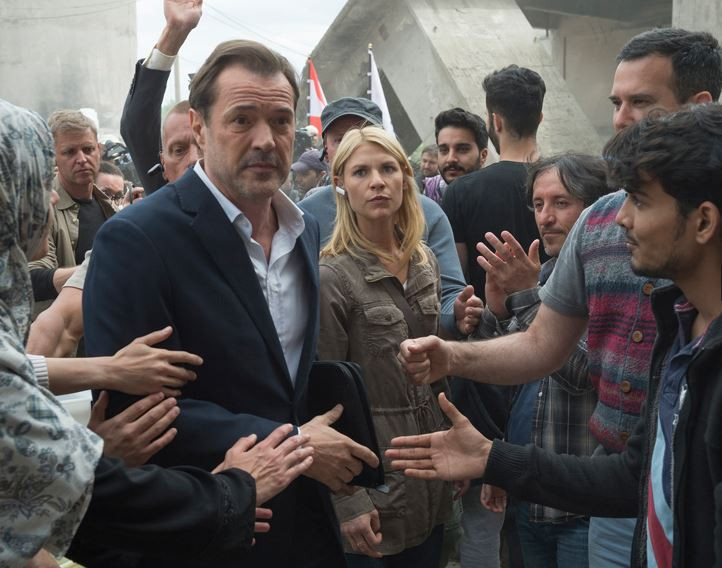 After a drab season 5 premiere, Homeland fans will be hoping that the show picks up in the second episode titled, The Tradition Of Hospitality. Carrie Mathison and her philanthropist boss Otto During will be seen visiting a refugee camp, where there is trouble in store for the two. Also, Carrie could be reunited with Peter Quinn.
The fifth season of the hit Showtime political drama has returned with a different theme. The show has leaped two years ahead and Carrie has quit the CIA. She is presently working for During as a security consultant, while Saul is back with the CIA as a European section chief and Quinn is employed by him as a hitman.
The official synopsis of the upcoming episode reads: "Carrie and Düring visit a refugee camp. Saul and Allison are at odds."
In episode 1, fans saw Carrie's life being jeopardised in Germany because of her past role with the CIA. Now, she is not happy with her boss (played by Sebastian Koch) as she has been asked to accompany him to a Hezbollah-controlled refugee camp on the Lebanon-Syria border. Paying no heed to Carrie's objections, During goes ahead with his trip, which is not likely to end well for both of them.
Season 5 has taken no time in establishing its central conflict, which is the leaking of classified documents, taking cue from the Snowden incident. In the episode, two German hackers had accidentally stumbled upon evidence that their country was allowing the US to track its citizens.
The promo of episode 2 shows Carrie briefing her boss about the ground situation at a guarded refugee camp. "The situation on the ground is unpredictable. We have been told to limit the time of visit to one hour," she tells During.
Meanwhile, Saul is briefed by Allison, who is the new Berlin station chief, on the leaked documents. "We suffered a major penetration here," says Saul. "You think Carrie is involved?" To which she replies, "They [the hackers and Carrie] both work for During."
The scene then shifts to the refuge camp where the German billionaire announces, "Here is a check for $10m. We will make this camp a safe place."
In the next scene, a bomb goes off and Quinn is being handed over another assignment. The promo ends with Carrie saying, "What the hell are you doing here?" Possibly hinting that Quinn's presence. So, do you think Carrie will be reunited with Quinn after she broke his heart in the season 4 finale?
To know how things unfold, watch Homeland season 5 episode 2 that airs on Sunday 11 October at 9pm ET/PT on Showtime.