Showtime has released the premiere date and first trailer for Homeland season 7 and it appears to offer a thrilling ride. The trailer shows Carrie Mathison going rogue in order to tackle graft at the White House under the tyrannical administration of President Keane (Elizabeth Marvel).
The 7th season of Homeland returns to Showtime on 11 February at 9pm EST. The trailer opens with civil rights-abusing president Keane declaring, "We execute people for that in this country."
At the same time, imprisoned Saul Berenson (Mandy Patinkin) is seen talking to a close member of Keane's administration. However, things take a drastic turn when Saul makes the surprise jump from prison to being named National Security Advisor, and Carrie is shocked to see Saul on Keane's side.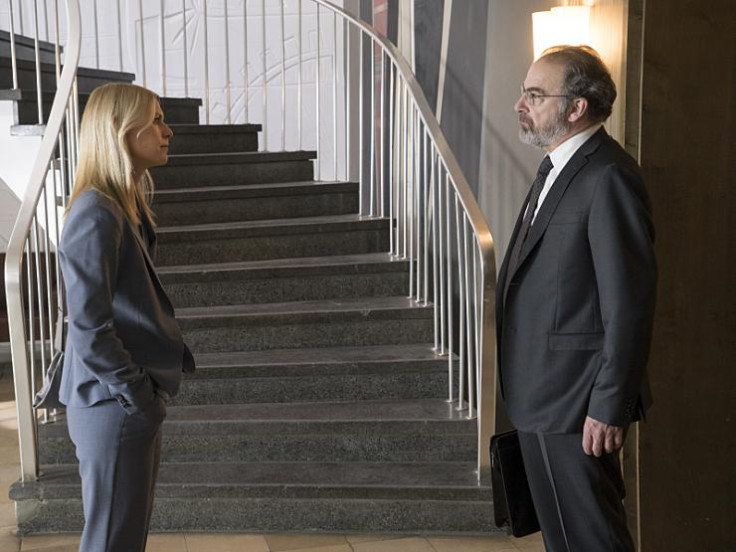 The footage also features an Alex Jones-like conspiracy character Brett O'Keefe (played by Jake Weber) who was first introduced last season. "The founding fathers foresaw the dark day when we would face a president like her. Anyone who takes a stand for what they believe, people are gonna say they're crazy. They've been calling me that for years," O'Keefe says as he aims a pistol at a poster of the president's face.
"The country is in freefall, tearing itself apart!" warns Carrie Mathison later in the promo as the explosive three-minute footage ends with Carrie hitting someone and yelling, "I will hunt you down, I will kill you."
Homeland season 6 ended with Peter Quinn dying a hero's death and Carrie realising that Dar Adal might have been right about Elizabeth Keane's "distinctly un-American" motives after all. Following an assassination attempt on her life, President Keane broke her promise to Carrie and arrested 200 members of the intelligence community without bringing charges against them, including Saul Berenson.
According to Showtime, season 7 will feature Carrie, who left her job at the White House and is living with her sister Maggie to take on the Keane administration and secure the release of the 200 arrested officials.
In addition to Danes, Patinkin and Marvel, the series regulars for the upcoming season include Linus Roache, Maury Sterling and Jake Weber. Boardwalk Empire's actor Morgan Spector also joins the cast as Dante Allen, an old friend of Carrie's who is looking into the hundreds of people Keane detained following last season's assassination attempt.