Defiant pro-democracy protesters in Hong Kong have adopted the three-fingered salute given by Katniss Everdeen in The Hunger Games. In the books and films, the salute symbolises rebellion against totalitarian rule. The gesture was also used in Thailand this year during protests against the military regime.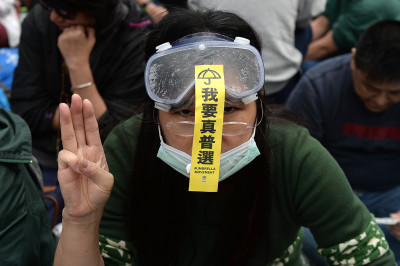 Police cleared most of the main pro-democracy protest site, arresting the few remaining activists, marking an end to more than two months of street demonstrations that have blocked key roads in the Chinese-controlled city.
Many activists chose to leave the site peacefully, but the overall mood was one of defiance as protesters chanted: "We will be back".
Banners bearing the words "We'll be back" were draped around the site where protesters had camped out.
Next to the People's Liberation Army base, a huge banner erected across barricades read: "It's just the beginning."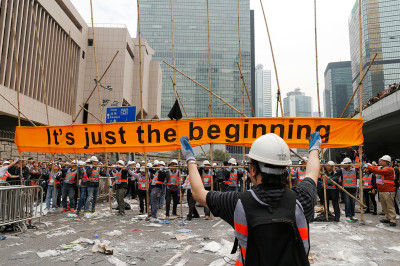 Hong Kong Federation of Students leader Alex Chow said: "You might have the clearance today but people will come back to the streets another day."
Volunteers and protesters scrambled to preserve "Umbrella Movement" artwork, including tens of thousands of messages of support posted on a wall in the area.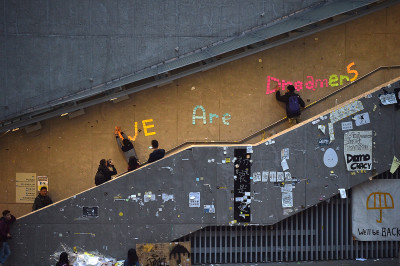 The mainly peaceful protests to demand free elections in the former British colony have represented one of the most serious challenges to China's authority since the 1989 pro-democracy demonstrations and bloody crackdown in and around Beijing's Tiananmen Square.
Despite the clearance, the Occupy movement has been a social watershed, with people pushing back against increasing control and standing up to Beijing to preserve democracy and freedoms largely denied on the mainland.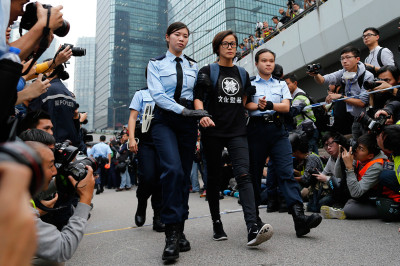 "The movement has been an awakening process for Hong Kong. People who weren't interested in politics before are now and aren't afraid to get arrested, especially the young people," said Labour Party lawmaker Lee Cheuk-yan.
The protests drew well over 100,000 at their peak as students vented their anger at Beijing's refusal to budge on electoral reforms.