Police arrested key student leaders of Hong Kong's pro-democracy protests as they cleared a protest camp in the volatile Mongkok district.
Joshua Wong and Lester Shum were among those arrested as hundreds of officers removed barricades and tents that had blocked key roads in the Chinese-controlled city for more than two months.
Although the protests have had no formal leadership structure, Wong and Shum were part of a group of students who many looked to as de facto leaders.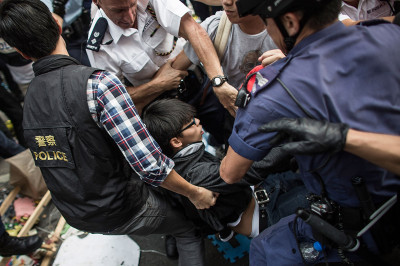 Scuffles broke out when riot police moved against hundreds of protesters on Nathan Road.
There was no serious violence, and after about three hours the operation was complete and traffic was flowing through the area where demonstrators had camped out since late September.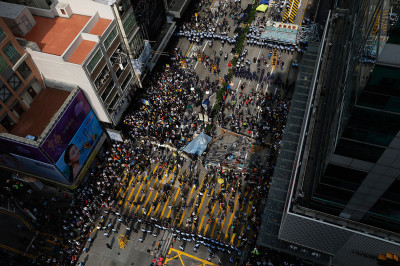 Mongkok has been a flashpoint for clashes between students and mobs intent on breaking up the protests, which have posed one of the biggest challenges to China's Communist Party leaders since the crushing of student-led pro-democracy demonstrations in Beijing in 1989.
The clearance of the Mongkok site is a big breakthrough in the authorities' efforts to end the most tenacious protest movement in Hong Kong's recent history, although it could trigger retaliatory protests elsewhere as activists regroup.
"After the clearance operation we don't have a leader," said protester Ken Lee, 19, who quit his job at a restaurant in October after the protests erupted. "We need to wait until tonight, it all depends on what happens tonight, if the majority of the people want to reoccupy the area or go to another location."
The two remaining protest zones are the sprawling main camp next to government headquarters on the edge of the financial district and a smaller one in the Causeway Bay shopping district.
The protesters are demanding that Hong Kong's government scrap a plan mandated by China's Communist leaders to use a panel of Beijing-friendly elites to screen candidates for the territory's top leader in inaugural 2017 elections.