Hope Solo accuses ex-Fifa president Sepp Blatter of grabbing her 'ass'
Blatter denies the allegations by the 36-year-old saying that they are 'ridiculous'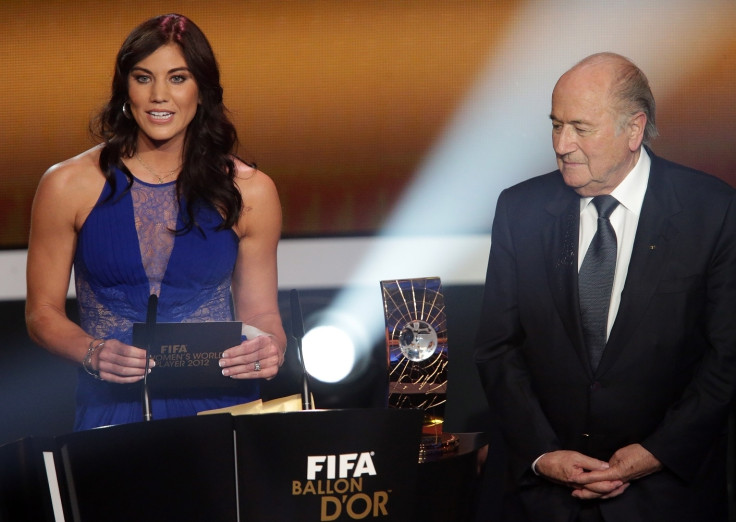 USA women's football team goalkeeper Hope Solo has accused former Fifa president Sepp Blatter of sexual harassment, claiming he grabbed her "ass".
The 36-year-old World Cup winner said that Blatter touched her inappropriately before she went on stage to present an award in 2013.
The pair appeared on stage together at the 2013 Ballon d'Or awards, where Solo's fellow USA international colleague Abby Wambach was presented the award for Fifa women's player of the year, following the 2012 Olympic Games in London.
In an interview with the Portugal newspaper Expresso, Solo said: "I had Sepp Blatter grab my ass."
Blatter, who is currently banned from all football-related activity for six years following a "disloyal payments" scandal, denied the incident took place.
He said, according to BBC News: "This allegation is ridiculous."
Solo, who has 202 caps for her country, said of the incident: "I was nervous for the presentation. It was the Ballon d'Or I was presenting.
"After that I didn't see him and that was kind of bad. I didn't get to tell him directly "don't ever touch me". That's the way I've always handled things. Directly."
The two-time Olympic gold medallist said sexual harrassment is "rampant" in women's football.
"I've seen it throughout my entire career," she said. "It's not just in Hollywood. For years, in the past, female players date and end up marrying their college coaches, which obviously a coach should not be doing, especially with a young player.
"I've seen it not just with coaches, I've seen it with trainers, doctors, and our press officers. I've seen it among players in the locker room. I don't know why more players don't speak out against it."
Last month, Blatter revealed he would be attending the Fifa World Cup 2018 after being invited by President Vladimir Putin.