Horizon Zero Dawn delay: Spectacular trailer confirms February 2017 release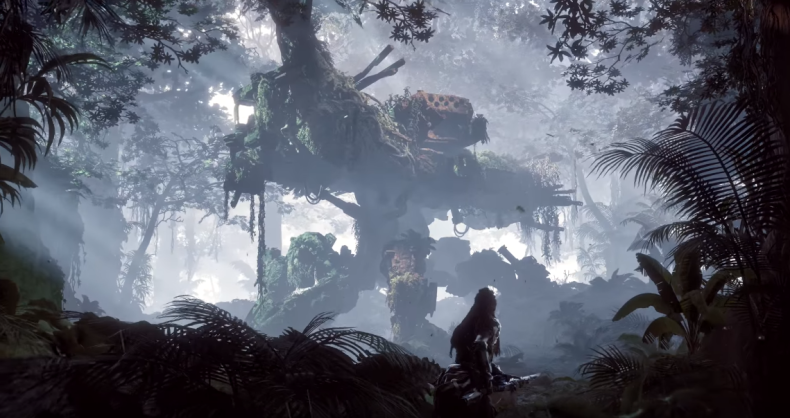 UPDATE: Sony released the trailer early, apparently by mistake. Once it was released properly the European release date was confirmed to be 3 March 2017.
Orignal story: Sony and Guerrilla Games have released a spectacular new trailer for PS4 open world action adventure Horizon: Zero Dawn, which also sadly confirms its delay. The trailer ends with an apparent worldwide release date of 28 February 2017.
Announced at E3 2015, Horzion: Zero Dawn is a new IP from the team behind Killzone. It is set in a post-apocalyptic world at a time when, after nearly becoming extinct, humanity is building itself back up, with no modern technology, in a world inhabited by sentient robotic wildlife.
Focusing on lead character Aloy, the trailer sets up the story – which sees her venture beyond the comfort of where she grew up to seek answers about who she is. Along the way the mystery of these enormous mechanical creatures is sure to unfold as well.
Sony has pulled the trailer for now, having apparently hit publish a little too early. We'll update the story when the trailer is back up. UPDATE: The trailer is back and embedded below.
Horizon: Zero Dawn is expected to feature heavily at Sony's E3 press conference in the early hours of Tuesday, 14 June. Alongside No Man's Sky, Gran Turismo Sport and The Last Guardian, it ranks among the most anticipated games on PS4.
"Take on the role of skilled hunter Aloy as you explore a vibrant and lush world inhabited by mysterious mechanized creatures," reads the video description. "Embark on a compelling, emotional journey and unravel mysteries of tribal societies, ancient artefacts and advanced technologies that will determine the fate of this planet, and of life itself."
It's likely Sony will show off gameplay from Horizon during E3 2016 next week.