A Turkish man has been arrested after mobile phone footage showed him punching and kicking his sick wife as she walked to the hospital carrying their two-month-old baby.
Investigators said the man became angry because his wife was walking slowly, possibly due to her illness, as they headed to the Regional Training and Research Hospital in Van, eastern Turkey, on 2 January.
A bystander filmed the attack and showed the footage to police, which led to them making an arrest the following day.
The clip has also been uploaded to Youtube, and shows the violent husband deliver a flurry of kicks and punches to his terrified spouse.
Their baby son is sat inches from the violence.
Eventually, the battered mother picks up her boy and flees the scene, with the husband in pursuit.
The incident took place in the courtyard of the hospital, which the family were visiting in connection to an illness the woman had, Arti33 reported.
The cowardly wife-beater appeared to check to see if the coast was clear on several occasions before delivering his sucker kicks and punches.
Police said:"Because of the slow walking of the mother, there was an argument between them and that the violence developed as a result. The investigation is continuing. It will be publicly honoured."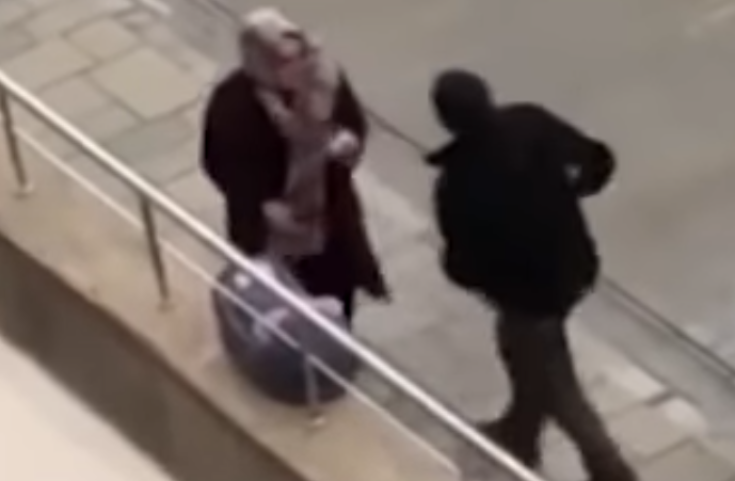 In 2017, a Turkish parliamentary committee found that violence against women had dropped by 2%, after president Erdogan's ruling AKP party introduced tougher laws to combat the issue, Daily Sabah reported.
However, rates of domestic abuse are still thought to much higher than in the rest of Europe and the US. The 2016 Gender Gap survey ranked Turkey 140th globally for women's rights and equality.
In 2015, a member of Erdogan's government blamed a rise in rape cases on soap operas. Ismet Ucma said: "You do a series where there are no boundaries between the sister-in-law and the uncle – you set no limits. Then you say rape is increasing. What do you expect?"