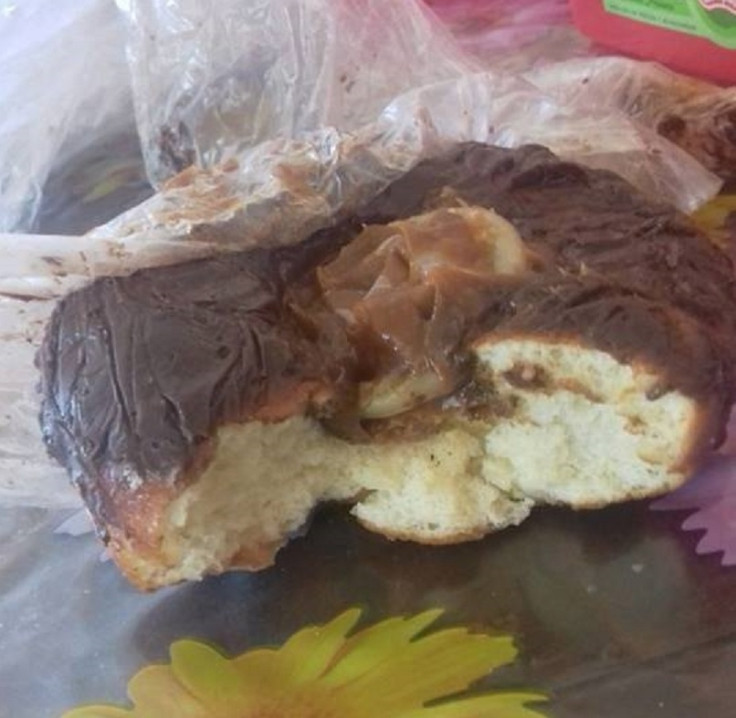 A woman has described her horror after finding a condom buried inside a cream doughnut she had already taken a bite out of it.
America Leal said she purchased doughnuts, along with some cupcakes, at a branch of Soriana in Baja California del Sur, western Mexico, with her young niece.
After starting to eat one of the doughnuts, she said she found the object inside. After going back to the store to speak to the manager, who was not there at the time, one employee allegedly told her: "Maybe two shop workers got excited and had sex in the place where the doughnuts are made."
The store then offered to refund the 60 pesos (£2.58, $3.40) she paid for the food as well as giving her a free cake, which she declined.
Leal shared photos of the item in question, complete with opened condom, on social media to vent her disgust, as well as complain about how the company dealt with her complaint.
She wrote on Facebook: "Yesterday I bought Soriana sweet bread, cupcakes and doughnuts. Everything was going well until I was in my house, while my niece and I ate one of the doughnuts that have cream in the centre, we realised that in the centre was a condom.
"I immediately went to Soriana with my mother and my sister and asked to speak with the manager of the store, but I was told that this was their day of rest [so]I spoke to the deputy manager.
"I explained to him what had happened and his solution was to give me back the 60 pesos and a cake from the same bakery, he told me 'Maybe two shop workers got excited and had sex in the place where the doughnuts are made'. Obviously I said that I was not interested in his cake."
Leal said she took her complaint to the Federal Prosecutors Office, but no further action was taken.
She added: "This cannot continue like this, this is a nationwide chain and I will not accept that they want to wash their hands of me by giving me a cake."