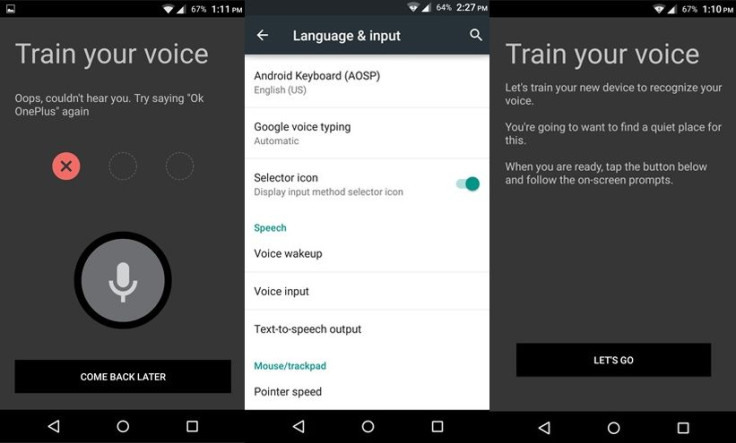 The Cyanogen team has resumed Cyanogen OS 12 OTA rollout for OnePlus One with a new build number YNG1TAS17L, based on Android Lollipop version 5.0.2.
The update which was withheld temporarily for the missing voice activation functionality called "Ok OnePlus" is incorporated along with a few notable bug fixes in the new update, which weighs in at around 600MB.
As confirmed by Steve Kondik, those who are still on CM11 will first get a small update weighing 8MB, which will prepare for the device for the real update that will be immediately followed by the new Cyanogen OS 12 update.
To activate the voice command, your OnePlus One should be on the latest YNG1TAS17L. If you have not installed the update yet, click here for our instruction guide to install manually on rooted and non-rooted devices.
Once you have the device ready with new Cyanogen OS 12 firmware, perform the following steps to get the OK OnePlus feature working.
Open Settings
Select Language and input
Select Voice Wakeup
That's it. Now train your phone saying OK OnePlus.
According to the OnePlus forum members who have managed to activate the feature, it does not drain the battery. The feature seems to be inaccurate though, but it loads up very quickly once it listens.
"It doesn't appear to be using a lot of battery power. Standby times are more or less the same thus far," confirms a forum member.
More details about the new Ok OnePlus command is available on the OnePlus forum.