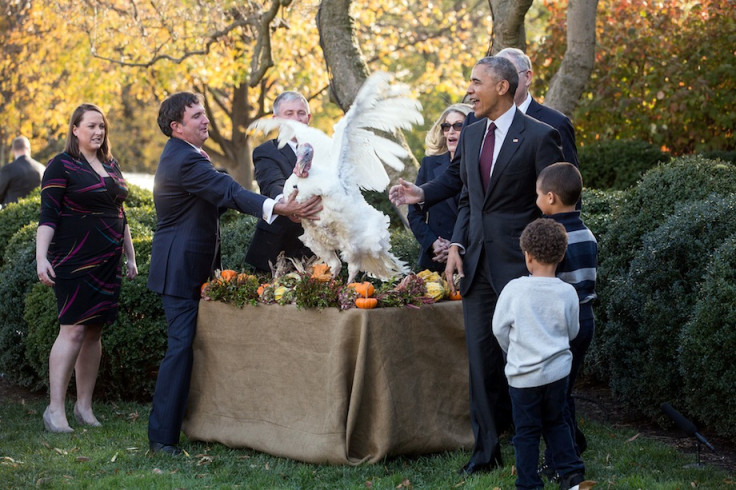 The current US president and president-elect kicked off Thanksgiving celebrations in their own special ways. Donald Trump chose to start the national holiday with a video message to the country, calling for unity and for "trust between citizens."
"We are very blessed to call this nation our home... and that's what America is. It is our home. It's my prayer that on this thanksgiving we begin to heal our divisions and move forward as one country, strengthened by a shared purpose and very, very common resolve," he said at the opening of his festive message.
"We've just finished a long and bruising political campaign. Emotions are raw and tensions just don't heal overnight. It doesn't go quickly... unfortunately," he added, referring to the negative emotions still rife across the country.
"But we have before us, the chance now to make history together... to bring real change to Washington, real safety to our cities and real prosperity to our communities, including out inner cities. So important to me, and so important to our country."
He went on to ask Americans to take up the responsibility of improving the nation. "Now begins a great national campaign to rebuild our country and to restore the full promise of America for all of our people. I'm asking you to join me in this effort," the president-elect said. "It's time to restore the bonds of trust between citizens, because when America is unified, there is nothing beyond our reach. And I mean absolutely nothing."
Watch Trump's Thanksgiving video message below:
Back at the White House, Obama continued his tradition of pardoning the Thanksgiving turkey. This being the eighth and last time he did so as president. "Tomorrow is one of the best days of the year to be an American. It's a day to count our blessings, spend time with the ones we love, and enjoy some good food and some great company," he said ahead of the holiday. "But it's also one of the worst days of the year to be a turkey. They don't have it so good."
Since 1947, the chairman of the National Turkey Federation has presented a turkey to the President of the United States, who grants a pardon to the bird. This year, Obama pardoned two birds, which he called "Tatter" and "Tot".
The president joked that his daughters Malia and Sasha did not attend after being embarrassed "with a cornucopia of dad jokes about turkeys" for seven years. Instead, Obama's nephews Austin and Aaron Robinson, "who, unlike Malia and Sasha, have not yet been turned cynical by Washington," attended the function.
"And it is my great privilege — well, it's my privilege — actually, let's just say it's my job -- to grant them clemency this afternoon. As I do, I want to take a moment to recognise the brave turkeys who weren't so lucky, who didn't get to ride the gravy train to freedom — who met their fate with courage and sacrifice — and proved that they weren't chicken," the Potus joked.
Both the lucky birds will be sent to their new home at Virginia Tech where they will be cared for by veterinarians and students of the Animal and Poultry Sciences Department at Gobbler's Rest in Blacksburg.
Watch Obama's official pardoning ceremony below: