The TaiG team has just released the official TaiG 2.1.2 jailbreak tool for iOS 8.3 with the highly-anticipated Cydia Substrate fix incorporated into it, while the jailbreak developer community has already unleashed the Apple File Conduit 2 (AFC2) and OpenSSH tools for unlocking root access on your iOS device.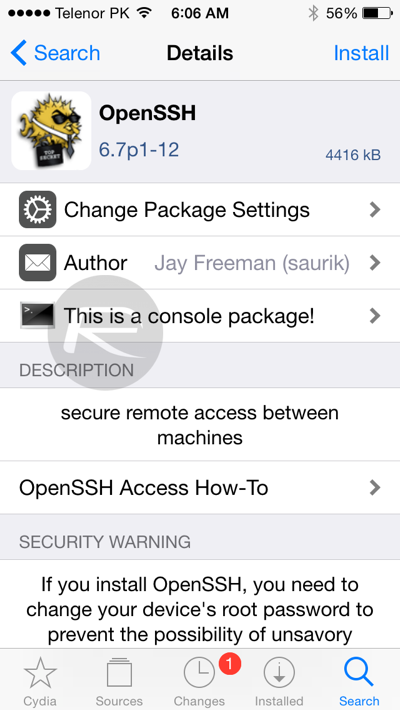 OpenSSH works similar to the AFC2 tool with the exception that the former unlocks root access to iOS file system over a WiFi network with tools like WinSCP and Cyberduck, while the latter enables root access to the file system over USB for tools like iFunbox and iExplorer.
Those who have already jailbroken their device on iOS 8.3 with TaiG jailbreak 2.1.2 can go ahead and install the OpenSSH tool, using the step-by-step guide provided below:
Step 1: Launch Cydia from your device's home screen.
Step 2: Hit 'Search' at the bottom of Cydia, and type in 'OpenSSH' into the search field.
Step 3: Now just double-tap on the 'OpenSSH' package to begin installation.
You can now access your device's file system over WiFi.
[Source: Redmond Pie]