For any Android user who's had thoughts of defecting to an Apple device but been put off by the faff involved with transferring all their data, Apple is now kindly here to help as it released its first Android app called Move to iOS. It does exactly what it says on the tin: help Android users switch over all their content to Apple devices.
Move to iOS is the latest strategy from Apple to win new users by making a switch as easy as possible. It was announced as Apple rolls out its latest iOS 9 update and will let Android smartphones or tablets transfer contacts, messages, photos, videos, email accounts, bookmarks, calendars and DRM-free songs to Apple devices.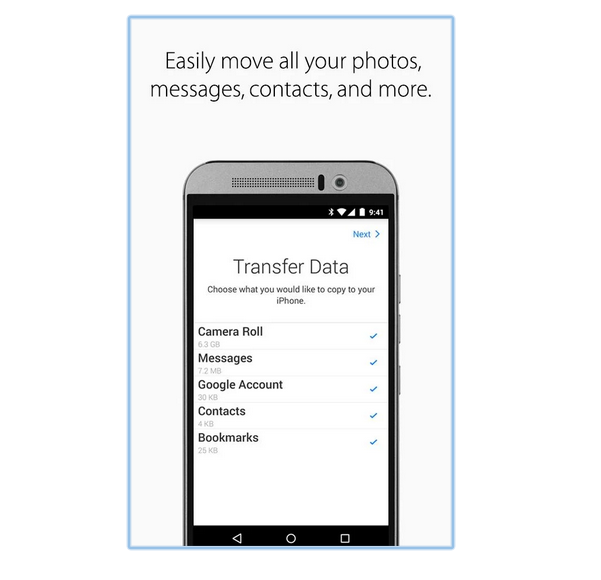 How Move to iOS works
If you're crossing over from Android to Apple, you'll need to download Move to iOS on your Android device first − this will only work with devices running Android 4.0 or later. Then, when setting up your new iPhone or iPad, you'll see a new option to transfer data from Android. From here you'll get a 10-digit code, which you enter into the Move to iOS app and it'll connect the two devices and provide a list of things you want to transfer over.
Will Move to iOS transfer apps?
As far as apps go it won't be able to transfer every app you have downloaded due to the differences between the Google Play store and iTunes store. Move to iOS will, however, compile a list of every free and paid-for app you downloaded to your Android device and will offer a suggested immediate download from iTunes if there's a free counterpart. For paid-for Apple versions of your apps it will automatically add these your Wish List in iTunes so you can buy them.
The irony is not lost that Apple's first Android app is something that helps Android users leave Android. It's a clever move in the war for market-share and clearly something it recognises as a sticking point when trying to attract new customers. Most Android users think it's a complicated process and won't bother, but this app proves there's nothing to fear as it is relatively straightforward and you'll keep all your data when you make the leap.