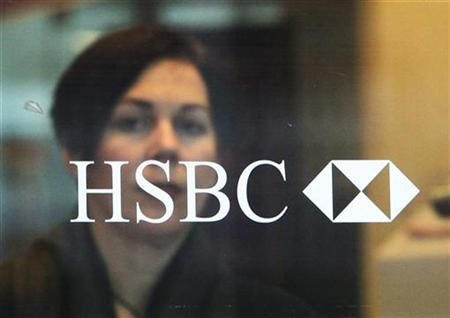 Shares in HSBC were down on the FTSE 100 in morning trading after the banking group reported a doubling of pre-tax profit in the full year 2010.
Pre-tax profit more than doubled to $19 billion, while on an underlying basis pre-tax profit increased 36 per cent to $18.4 billion.
The group's commercial banking arm saw pre-tax profit increase 48 per cent to six billion dollars. Global Banking and Markets at HSBC reported a rise in pre-tax profit of $9.2 billion.
HSBC saw its profits grow in all of its regions, with the Rest of Asia Pacific seeing profits rise 31 per cent to $5.9 billion, followed closely by Hong Kong which saw profits increase 29.9 per cent to $5.7 billion.
In Europe the group saw profits rise 22.6 per cent to $4.3 billion, while in the Middle East, North America and Latin America group profits increased between two and 10 per cent.
Loan impairments fell $12.4 billion to $14 billion, the lowest levels since 2006.
HSBC said total dividends in the year were $0.36 per ordinary share.
Stuart Gulliver, Chief Executive of HSBC, said, "Underlying financial performance continued to improve in 2010 and shareholders continued to benefit from HSBC's universal banking model. All regions and customer groups were profitable, as Personal Financial Services and North America returned to profit. Commercial Banking made an increased contribution to underlying earnings and Global Banking and Markets also remained strongly profitable, albeit behind 2009's record performance, reflecting a well-balanced and diversified business.
"Credit experience continued to improve, as a result of a stronger global economy and our actions to reduce balance sheet risk. As a globally-connected bank with a growing presence across the world's faster-growing regions, HSBC also benefitted from higher trade volumes and strong momentum in emerging economies, especially in Asia. Asia contributed the largest proportion to underlying pre tax profits, while the contributions made by Latin America and the Middle East also increased. Together with our conservative management of the balance sheet, this improved performance allowed us to concentrate on serving our customers and to further strengthen our capital position.
"In the short-term, risks to global growth remain, not least from an elevated oil price. We therefore expect cyclical volatility to continue - including in emerging markets - and progress is unlikely to be linear. In the longer-term, we believe that growth rates in many Western markets will continue to significantly underperform those of the emerging world. Emerging markets are no longer simply leading the recovery from a Western crisis: the growth gap has become a sustained secular trend."
Richard Hunter, Head of UK Equities at Hargreaves Lansdown Stockbrokers, commented, "The initial disappointment to the numbers is evident, as both performance and guidance have fallen short of investor expectations.
"Apart from the profit numbers being slightly shy of analyst estimates, a further triple whammy has dented sentiment, in the form of a lower proposed return on equity, a deterioration of the cost income ratio and further pressure on margins, particularly in its important Asian region. On a more positive note, and a constant theme throughout this round of results, has been a significant reduction in bad loan provisions. The group remains one which is well placed in terms of its business mix and geographical diversification, whilst its independence throughout the financial crisis has left it master of its own destiny.
"The shares may be suffering from failing to have met high expectations, something which has been a factor of their performance over the last year - a gain of just 0.2% as compared to a wider FTSE100 appreciation of 12%. Given that these high hopes have been somewhat dashed again, it remains to be seen whether the current market view of the shares as a buy remains intact."
By 09:15 shares in HSBC were down 2.91 per cent on the FTSE 100 to 690.40 pence per share.