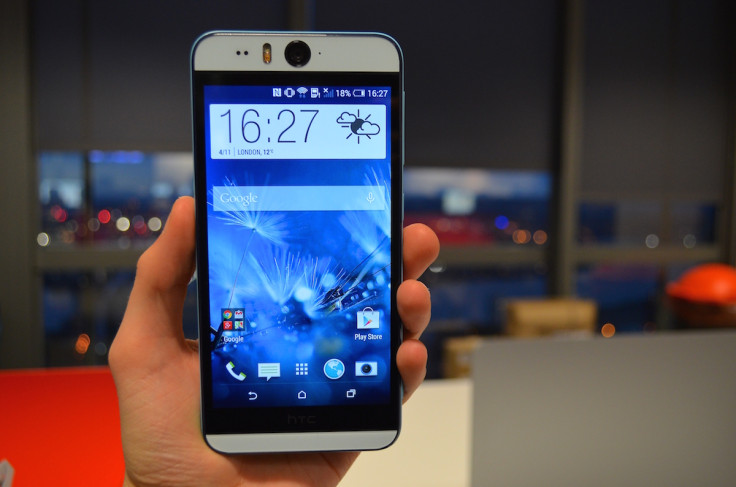 Key Features:
13-megapixel front and rear cameras
5.2in display with 1920 x 1080 resolution
Android 4.4 KitKat
Waterproof to 1.5 meters for 30 minutes
Expected retail price - Around £350
---
HTC Desire Eye Review
---
There's no escaping it - the world has gone selfie mad. Where once asking a passer-by to take your photo was the norm, now we're clutching our smartphone in outstretched hands, grinning (or pouting) in front of just about everything. But there have always been a couple of problems; firstly, image quality of front-facing cameras lacks far behind the rear ones, there's no flash, and trying to take a photo with the rear camera always ends in blurry, poorly framed shots.
With the Desire Eye, HTC sets to right all of these wrongs and offer a device which is flagship-fast, uniquely designed, and the perfect phone for selfie lovers.
---
HTC Desire Eye: Design
---
Since the One (M7) arrived last year HTC's designers have been at the top of their game. The aluminium-clad One range is stunning across the board, and now the company has turned its hand just as successfully to plastic.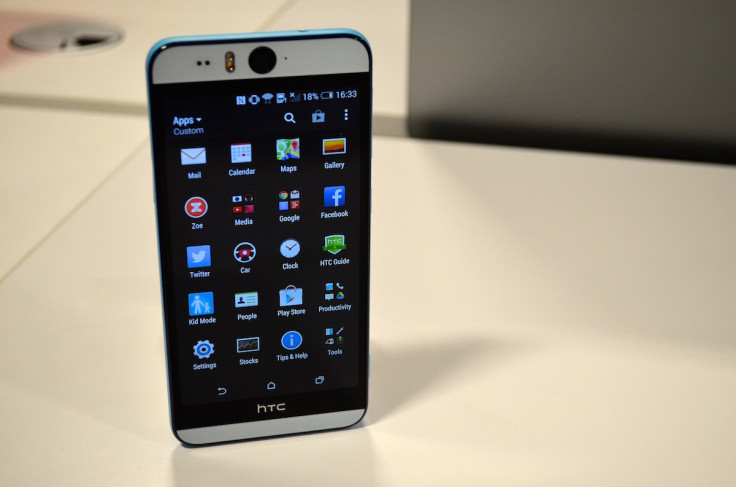 The two-tone Desire Eye is available in red/white, as well as the blue/blue of our review unit. It's a unibody design, meaning the back and all four sides are a single piece of plastic, which adds rigidity and makes the handset feel almost as solid and well-built as the aluminium One (M8). I suspect some consumers will baulk at the baby blue highlights, but I like the split colour design because it makes the Desire Eye stand out from the monochrome crowd.
I'm also a fan of the matte finish to the plastic, but it isn't particularly hard-wearing. After a week in my pocket the back began to show some scratches, and was going shiny where the matte finish had worn off.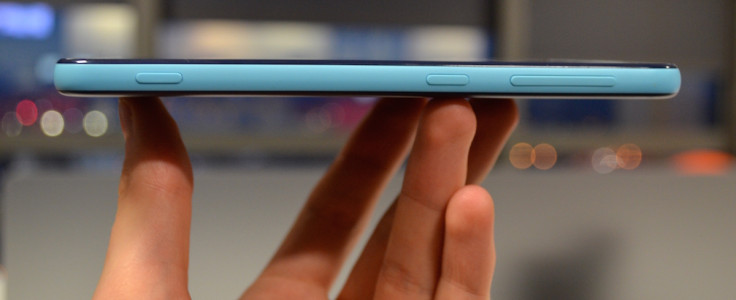 Cleverly, HTC has made the Desire Eye waterproof without covering the headphone jack or microUSB port; an IPx7 rating means it can survive for 30 minutes in up to a meter of fresh water.
---
HTC Desire Eye: Screen
---
Although not worthy of the 'One' moniker of HTC's flagship range, the Desire Eye has a screen every bit as impressive as the One (M8)'s. At 5.2in it's actually 0.2in larger (not that you'd really notice) and the resolution remains the same at 1080 x 1920, which is Full HD.
The screen is bright (as bright as an iPhone 6, even) and viewing angles are excellent, with colours remaining accurate and whites crisp, even when you turn the phone to the side.
---
HTC Desire Eye: Software and Performance
---
Internally, the Desire Eye is almost identical to the One (M8) from earlier in the year. That means a 2.3GHz, quad-core processor with 2GB of RAM running Android 4.4 KitKat with HTC's Sense 6.0. There's also the company's BlinkFeed social news app and dual, front-facing BoomSound speakers. It's a mightily impressive offering for what HTC openly admits is not a flagship phone. There's only 16GB of storage, but with a microSD card slot this can be increased by up to 128GB.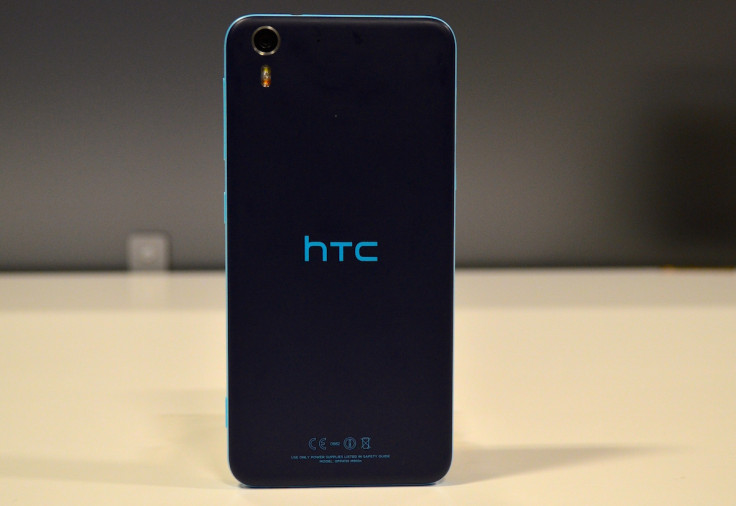 Everything works exactly as it does on the M8, so apps open quickly, intensive games play smoothly and multitasking between apps is flawless. Battery capacity is down from 2,600mAh in the One (M8) to 2,400mAh here, but such a small deficit isn't noticeable during everyday use.
I found a full day of average-to-heavy use was no problem for the Eye, and an hour of Netflix streaming over Wi-Fi took just 15% from the battery.
---
HTC Desire Eye: Camera
---
And so to the Desire Eye's party piece - or rather, party pieces, as the front and rear cameras are identical to each other. Both are 13-megapixel (MP), can shoot Full HD video, and each have a dual LED flash. Complementing these is a simple camera app with a range of quirky features, such as the ability to take photos of two people then blend their faces into one.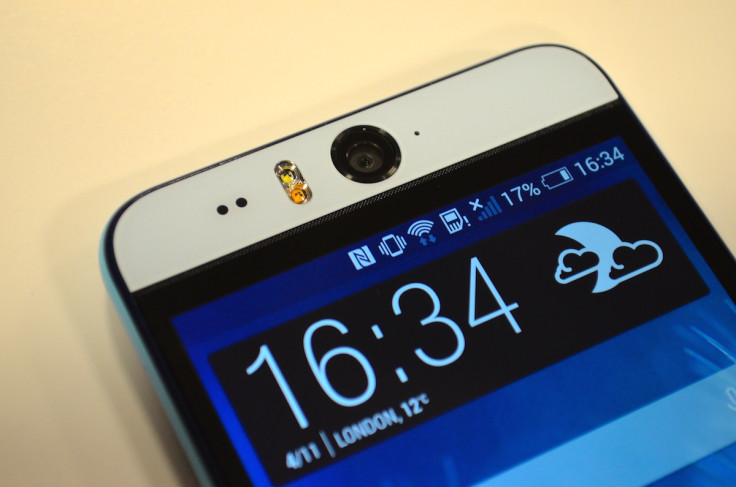 There's also a mode to take photos with blurred background or foregrounds, similar to the effect achieved by the Duo camera on the One (M8).
I suspect features like this are likely to be ignored after an initial day of tinkering, although HTC says some will appear on the One (M8) as part of a future software update.
As for image quality, the rear camera performs well; it's particularly good at capturing lots of light in what would otherwise be dimly lit scenes. Colours are accurate and the autofocus is quick to adjust, but I was disappointed with the shutter button.
You can half-press it to focus before pushing fully to take a photo, but the movement feels very squidgy, meaning you have to apply more pressure to take the shot, increasing the chance of blurring the photo with hand movement. It's a shame that such a photocentric phone fails at the very moment you take a picture. At least there's the option to take photos with voice commands, negating the need for a button entirely.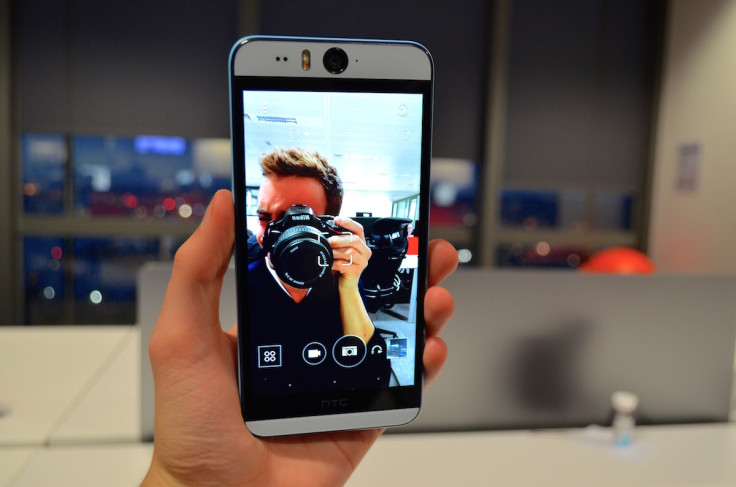 Finally, the massive front-facing camera is adequate, but not the game-changer I was hoping for. It may be able to take much larger images than the competition, but the quality is fairly average and often I found the iPhone 6's 1.2MP camera did a better job at close-up self portraits, producing brighter images with less evidence of unnatural post-production. Of course, if you need a flash with your selfies (so to speak), the Desire Eye is for you.`
---
HTC Desire Eye: Verdict
---
For "around £350," as HTC is quoting for now, the Desire Eye is excellent value for money. It's a flagship smartphone wrapped in a fun and attractive plastic body. It offers a premium alternative to aluminium which, thanks to the red and blue highlights, will stand out on shop shelves for the right reasons.
The Full HD screen is brilliant, the fact that it's waterproof without covering the USB port is very welcome, and we suspect it'll get a speedy update to Android 5.0 Lollipop. I saw a couple of issues with the matte plastic turning glossy, and that huge front camera, while a fun talking point, doesn't quite have the impact I hoped it might.
HTC Desire Eye Review Scores:
Screen: 9/10 - Big, bright and Full HD, it's difficult to fault
Camera: 8/10 - Both are good, but fail to impress as much as I'd hoped
Software: 8/10 - One of the better Android skins, HTC Sense 6 is smart and intuitive with minimal bloatware
Design: 8/10 - Great size and fun, attractive colour options. It stand outs for the right reasons
Build Quality: 8/10 - Feels very solid, but I have some concerns about plastic back turning shiny with wear
Overall: 8/10 - Well priced, attractive, powerful and waterproof without the flaps. An excellent mid-range handset
The Good:
Fun, attractive design
Crisp, Full HD screen
Waterproof without flaps
The Bad:
Some build quality concerns
Non-removable battery
Camera software feels gimmicky
© Copyright IBTimes 2023. All rights reserved.