HTC's new flagship smartphone, the HTC One, was unveiled last month at a media event in New York. Touted as the world's first smartphone with UltraPixel camera (with capability to capture 300 percent more light than traditional smartphone camera sensors), the One is expected to go global (across more than 185 mobile operators and major retailers spanning about 80 regions and countries) from March, while the UK has an expected release date of 15 March.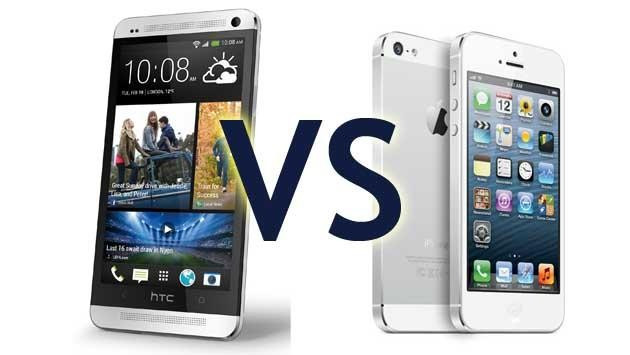 Earlier, the Cupertino tech giant introduced its thinnest and lightest iPhone ever, the iPhone 5, with a completely revamped 4in Retina display and a blazing fast processor (based on the new A6 chip architecture) at a San Francisco media event in September last year.
IBTimes UK brings you a detailed features comparison of the two heavyweight smartphones to help you make the choice:
HTC One v iPhone 5: Display
The HTC One features a 4.7in Super LCD3 display, which is wrapped in a zero-gap aluminium unibody design for enhanced ergonomics (sits comfortably in the hands). It supports a full HD resolution of 1080 x 1920 pixels at a pixel density of 469 pixels-per-inch (ppi), which is notably higher than the 4in iPhone 5 that offers just 640 x 1136 pixels (326ppi) on the tried and tested LED-backlit IPS LCD screen.
Both the smartphones boast unibody aluminium design. In addition, the HTC phone offers unique antenna technology, which is expected to help users achieve crystal clear signal during phone calls.
Given the superior display technology and higher resolution screen of the HTC handset, its display is expected to offer better contrast, more natural colours and better clarity under bright sunshine than the IPS LCD counterpart.
The iPhone 5 offers Corning's Gorilla Glass protection, while the HTC phone equips the newer Corning Gorilla Glass 2 technology with oleophobic coating for enhanced protection against scratches, smudges and other superficial damage to the screen. The latter also gets a revamped User Interface - Sense UI v5.
HTC One v iPhone 5: Dimensions
Apple's iPhone 5 is the world's thinnest smartphone at 7.6mm thickness, which is 18 percent thinner and 20 percent lighter than its predecessor - the iPhone 4S. In other words, the iPhone 5 is 1.7mm thinner (at 7.6mm) and 31 grams (g) lighter (at 112g) than its HTC counterpart, which measures 9.3mm in thickness and weighs 143g. The HTC One is also 13.6mm taller than the Apple iPhone (at 123.8mm).
The overall dimensions of the two smartphones in comparison are listed below:
HTC One: 137.4 x 68.2 x 9.3mm
iPhone 5: 123.8 x 58.6 x 7.6mm
HTC One v iPhone 5: Operating System
The HTC One packs Android 4.1.2 Jelly Bean out-of-the-box, which is further upgradeable to Android 4.2.2. Some of its noteworthy features include HTC BlinkFeed (live-streaming of social, entertainment and lifestyle updates), HTC Zoe (ability to capture three second clips of 1080p video, while simultaneously shooting stills), HTC BoomSound with Beats Audio integration, HTC Sense Voice (boosts call Volume and quality in noisy environments for louder and clearer phone calls) and HTC Sense TV (an interactive programme guide and remote control for TVs, set-top boxes and receivers) which make an impressive package for Power users and tech-enthusiasts alike.
The new Android 4.2 update, which is expected to arrive on HTC One is likely to deliver a noteworthy improvement over Android 4.1.
Android 4.2 packs a host of new features including Gesture Typing which enables users to slide fingers over the letters they want to type on the keyboard while increasing the typing speed. The operating system (OS) also supports wireless display which allows users to share movies, YouTube videos and other videos and images on their TVs. Other noteworthy features include Daydream, enhanced Google Now, Google Search and Android Beam.
On the other hand, the iPhone 5 comes with iOS 6 out-of-the-box, which is now upgradeable to the latest iOS 6.1.2 update (includes fixes for Exchange calendar bug and reduced battery life). iOS 6 brings a host of new features including the all-new Apple Maps with turn-by-turn navigation system, Facebook integration, Passbook organisation, enhanced Siri with support for new languages, and iCloud's Shared Photo Streams.
HTC One v iPhone 5: Processor and RAM
HTC One offers a powerful quad-core 1.7GHz Krait 300 processor integrated on Qualcomm's Snapdragon 600 chipset which is reportedly the first chipset to integrate four cores of 1.7GHz Krait 300 processor onboard. The Snapdragon chipset includes an Adreno 320 GPU for graphics processing. According to Qualcomm, the new CPU is expected to deliver unprecedented performance per watt and consequently offer greater battery life.
According to recent benchmark tests conducted by GSM Arena, the HTC One easily blows away all competition in overall scores against its nearest rivals: Sony Xperia Z, HTC Butterfly, HTC One X+, HTC One X, Samsung Galaxy S3 and Nexus 4.
The iPhone 5, on the other hand, is powered by a dual-core 1.2GHz processor based on the new A6 chip architecture. The phone's graphics processing is done by the PowerVR SGX 543MP3 chipset with triple-core Graphics Processing Unit (GPU).
The iPhone 5 offers just 1GB of RAM, while the HTC One offers twice its memory with 2GB of RAM.
HTC One v iPhone 5: Camera
The HTC One comes with a four megapixel (2688 x 1520 pixels) rear camera with the world's first UltraPixel sensor, which captures 300 percent more light than traditional smartphone camera sensors to deliver good stills and videos even in low-light conditions. In addition, its ultra-wide angle 2.1 megapixel front-facing camera offers 1080p video capture at 30 frames per second (fps), while the multi-axis optical image stabiliser for the rear camera enables smoother and clearer video-recording even when the camera is in motion. HTC's UltraPixel camera also features enhanced 360 panorama mode for stitching a sequence of stills to form a complete picture in landscape mode.
On the other hand, the iPhone 5 features an eight megapixel iSight (rear) camera with a revamped optical sensor and a sapphire crystal lens cover that enables the user to capture crystal clear images. Similar to its HTC counterpart, the iPhone 5 also offers the popular Panorama mode with support for blowing image resolutions up to 28 megapixels. In addition, the rear camera features enhanced video stabilisation and video face detection technology (detects up to 10 faces and captures stills during video recording like HTC Zoe technology). Its front camera supports the new FaceTime HD feature for making FaceTime calls that can be used for self-portraits as well as 720p HD video recording.
HTC One v iPhone 5: Connectivity
Both the smartphones support Wi-Fi Direct, Wi-Fi hotspot, Bluetooth v4.0 with A2DP connectivity options and offer LTE capability. The iPhone 5 supports Wi-Fi 802.11 a/b/g/n standards, while the HTC One offers Wi-Fi 802.11 a/ac/b/g/n standards. The former offers data speeds of HSDPA up to 21 Mbps and HSUPA up to 5.76 Mbps, while the latter can connect to HSPA+ speeds (up to 50 Mbps upload and 100 Mbps download).
Only the HTC One offers support for Near Field Communications (NFC) and Infrared port for communicating with infrared enabled devices. Instead of NFC, the iPhone 5 adds a new e-commerce solution via Passbook app built into iOS 6.
In addition, the iPhone 5 features the new Lightning dock connector with an adaptive interface that captures signals needed for each accessory and enables support for legacy 30-pin accessories. Apple's flagship phone also adds support for mobile wideband audio (with active noise cancelling technology for clearer speech) that is supported across 20 carriers worldwide since the device's launch.
HTC One v iPhone 5: Storage
The HTC One comes in just two storage variants: 32 and 64 GB, while iPhone 5 offers an additional 16GB storage variant, besides 32 and 64 GB models.
Both the smartphones lack support for microSD expansion slot, which is a major drawback for Power users.
HTC One v iPhone 5: Battery
The iPhone 5 is powered by a 1440mAh battery, which promises to deliver up to 225 hours of standby and about 8 hours of talktime on both 2G and 3G networks.
HTC One packs a powerful 2300mAh battery whose battery-life details are yet to be revealed.
HTC One v iPhone 5: Price
The HTC One is likely to hit the UK market by 15 March. But the handset (32GB model) is already available for pre-order via Phones 4u on a contract deal of £36 per month and also from UK's Clove Technology (in Glacial Silver and Stealth Black variants) with the SIM-free version priced at £510 (including VAT). This is about £100 cheaper than the iPhone 5's SIM-free version (32GB White), which is priced at £609.99 at Amazon.co.uk.
The 16GB White SIM-free iPhone 5 costs £519 from Amazon, while the SIM-free models (Black and White) at Apple Store for UK are priced as follows: 16GB at £529, 32GB at £599 and 64GB at £699.