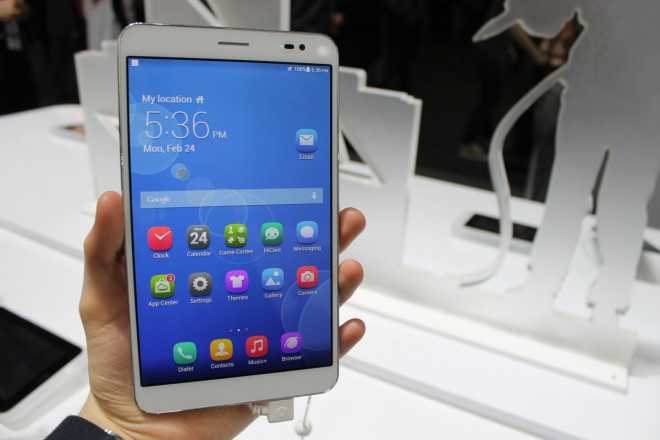 If an iPad mini and a Samsung Galaxy Tab crashed into each other, this would be the result - the Huawei MediaPad X1.
Unveiled at the Mobile World Congress technology trade show in Barcelona, the MediaPad X1 is a 7in Android tablet with 4G as standard and the ability to make phone calls and send text messages.
Joining the 8in MediaPad M1 on Huawei's stand at the Spanish event, the X1's looks take more than a little inspiration from the iPad mini, with its unibody design, chambered chrome edges, aluminium back and white glossing front.
Meanwhile, the rounded edges and default blue theme of the white model reminds us of Samsung's Galaxy Tab and Galaxy Note ranges; in addition, the Huawei's custom application icons aren't far away from those used by Samsung to publicise the upcoming Galaxy S5.
The MediaPad X1 is powered by a quad-core, 1.6GHz processor with 2GB of RAM, and there is 16 or 32GB of storage depending on your budget - and although prices are yet to be announced, we expect it to be more expensive than the M1, but cheaper than the iPad mini, at around £300.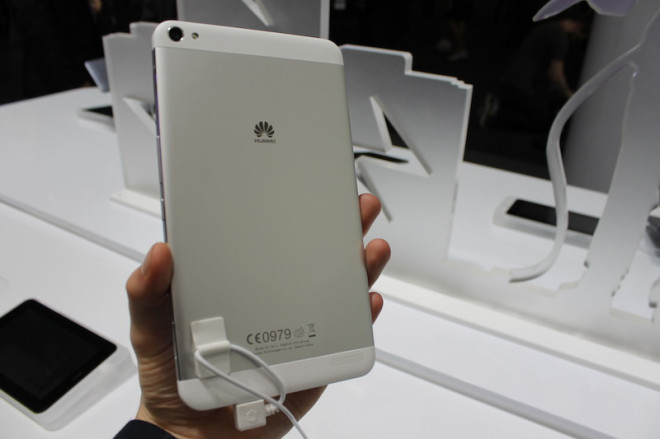 Saying that, Huawei expects the majority of its X1 and M1 tablets to be sold with 4G mobile internet bundles.
The X1's screen has a resolution of 1280 x 1920 and a pixel density of 323 per inch, just a fraction behind the iPad mini with Retina Display, which offers 326 pixels per inch.
Huawei's premium tablet stacks up well against Californian competition, with its thickness of 7.18mm undercutting the iPad mini by 0.3mm. Meanwhile, the X1's lack of weight is far more noticeable, tipping the scales at just 239g, compared to the iPad at 341g.
Having used the Huawei for a few minutes, we can confirm the tablet is incredibly light and comfortable to hold in one - and while it could theoretically be held to your face to make phone calls, a wired or Bluetooth headset would make more sense. For those looking for a smartphone and tablet in one, this could be the ideal solution, given how portable the Huawei feels.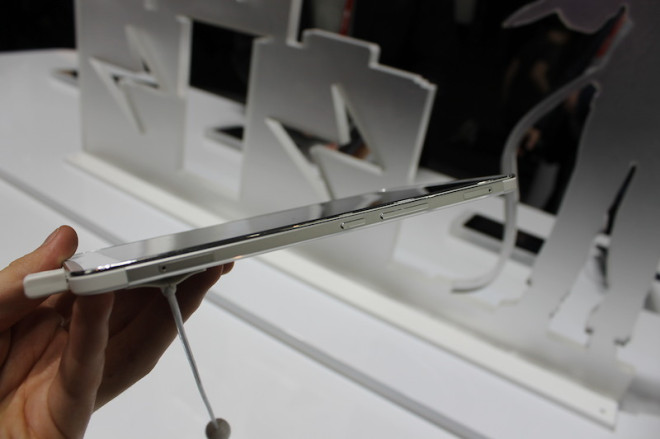 Around the back, there is a 13-megapixel camera with flash (a rare addition for tablets of any price), and this is complemented by a 5-megapixel camera on the front with larger pixels designed to capture more light.
Huawei claims the MediaPad X1 will last for nine hours of Wi-Fi web browsing on a single charge, or 3.5 days of more average use.
Once dismissed as a producer of cheap but inferior hardware, Huawei has seriously upped its game with the MediaPad series, and we look forward to spending more time with both tablets soon.