Key Features:
5.2in screen (1920 x 1080)
6.4mm thick; weighs 144g
Android 5.0 (Lollipop) with Emotion UI 3.1
Octa-core processor with 3GB RAM
16GB storage, w/ microSD up to 128GB
Price: €499 (£370 - but UK price TBC)
Huawei P8 review
There's nothing quite like supporting the underdog, especially when, after two years of hard work they come out on top.
That's what using the Huawei P8 feels like.
This is an Android smartphone which began life as the Ascend P6, showed promise a year later with the P7, and is now ready to take on Apple, HTC and Samsung at their own game, with a much lower price.
The all-important first impressions are good - even in what Huawei calls champagne gold - but has the company improved on software and performance issues of its predecessors, and does the camera live up to the hype? Let's find out.
Huawei P8: Design and hardware
"That looks a lot like an iPhone" says pretty much everyone when they see the Huawei P8 for the first time. They're not wrong. The aluminium chassis cut into three by white antenna lines and the shiny, chamfered edges blend the iPhone 5s and 6 into a premium handset which quite clearly deserves a place among the smartphone elite.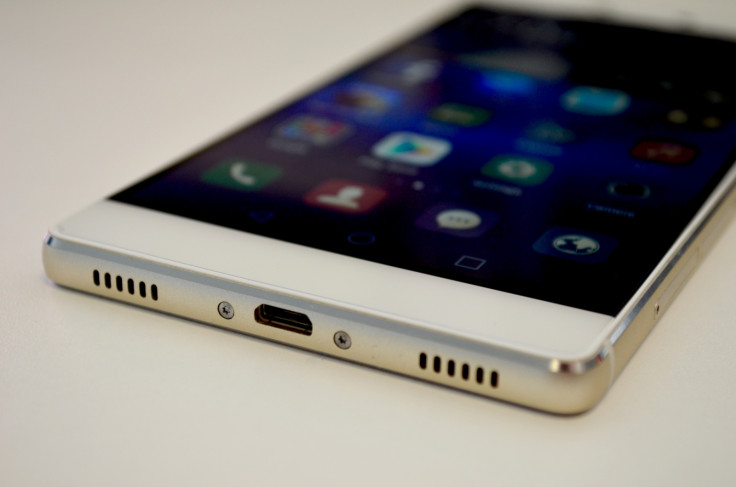 The volume and power buttons - also with chamfered edges - all stick out enough to be accurately pressed by feel alone and all have enough travel to provide good, clicky feedback. The bottom edge, comprising a microUSB port flanked by a screw and speaker/mic grille either side appears to be lifted straight from the iPhone 6 - but rather than earn Huawei a trip to the copyright infringement courts, I see it as good design, no matter who put it on sale first.
A smart feature shared with last year's P7 sees the P8's microSD card slot doubles as a secondary SIM slot.
At 145 x 72 x 6.4mm, the Huawei is taller, wider but thinner than the iPhone 6 (138 x 67 x 6.9mm), and at 144g it's a barely noticeable 15g heavier. Sharper edges and a slightly more abrasive finish to the P8's aluminium back make it better to hold than the iPhone and despite the larger size it feels less likely to slip out of my hand. It's a good-looking device, the P8, and is Huawei's best attempt yet at convincing the brand snobs to leave their preconceptions at the door.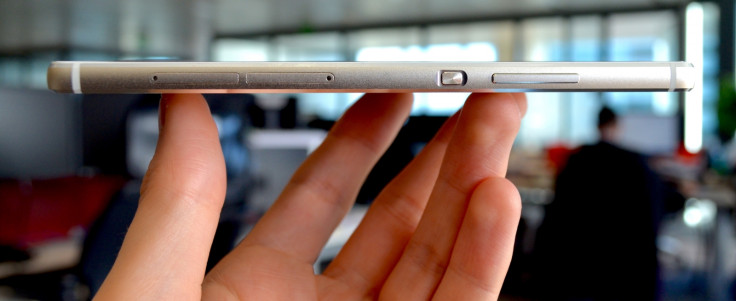 Huawei P8: Screen
The P8 is all fairly par for the course as far as the screen is concerned. It's a 5.2in panel with a Full HD resolution of 1920 x 1080; that mean it misses out on the Quad HD glory of the LG G4 and Samsung Galaxy S6, but has a sharper screen than the iPhone 6. As far as pixel density is concerned, the P8's 424 pixels per inch is higher than both the iPhone 6 and 6 Plus, but in all honesty you'd struggle to spot the difference. Samsung and LG win the bragging match, but in reality that's all it really is.
Brightness is a minor problem for the P8, as its screen doesn't light as brightly as the iPhone 6, and whites appear with a slightly yellow/green tinge, which shifts to pink when viewed off-centre. Blacks also suffer slightly, shifting to a grubby yellow, but these flaws only really stand out when viewed side-by-side with a more expensive handset.
Huawei P8: Camera
Huawei had an awful lot to say about the P8's camera when the phone was announced - and not without reason. The 13-megapixel sensor has an optical image stabilisation (OIS) system which the company claims is "best in class" and twice as stable as the iPhone 6 Plus. It has even fitted OIS to its front camera too, which has an impressive 8MP resolution.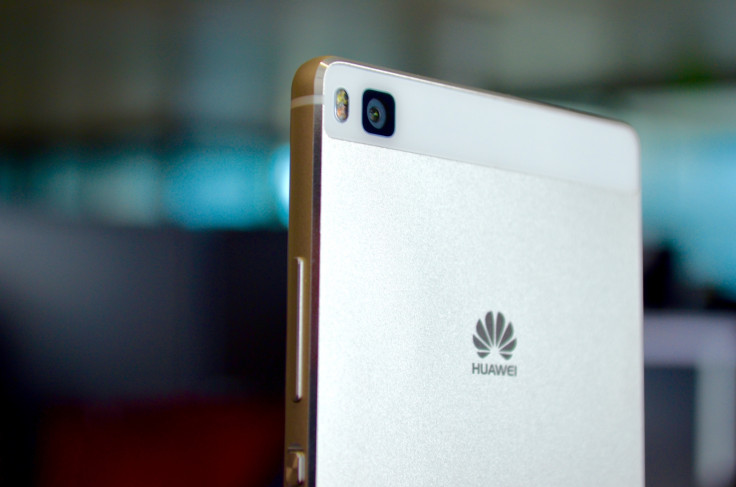 But the focus of the P8's photography excellence is on the rear camera, which uses its OIS to produce night-time images with much more light than more expensive rivals are capable of.
Furthermore, there are dedicated shooting modes to create nighttime photos which blur the light trails from car headlights, create 'silky' waterfall effects, and even track the movement of stars across the night's sky.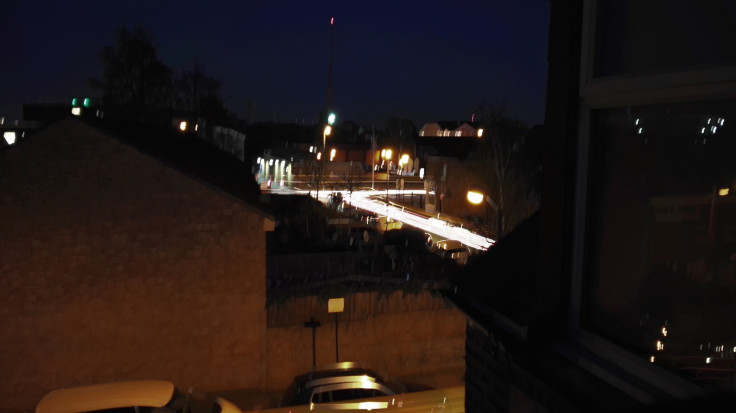 In theory this all looks and sounds incredible, but the reality is you need a tripod to get the most out of these low-light features. The P8 does a sterling job of boosting light when night-time photos are taken normally - and you can see the difference compared to an iPhone 6 below - but the headlight and star photos need the phone attached to something stable. I tried to shoot some car light trail photos by hand, and even while resting on a balcony the results were fairly blurred, albeit the feature is still impressive coming from a phone.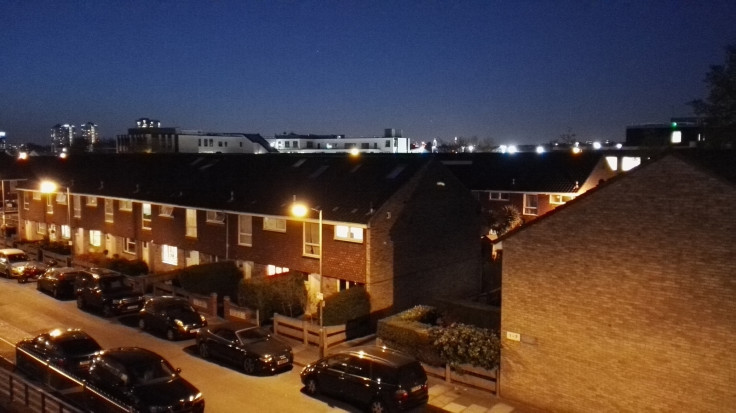 And the same photo taken with an iPhone 6: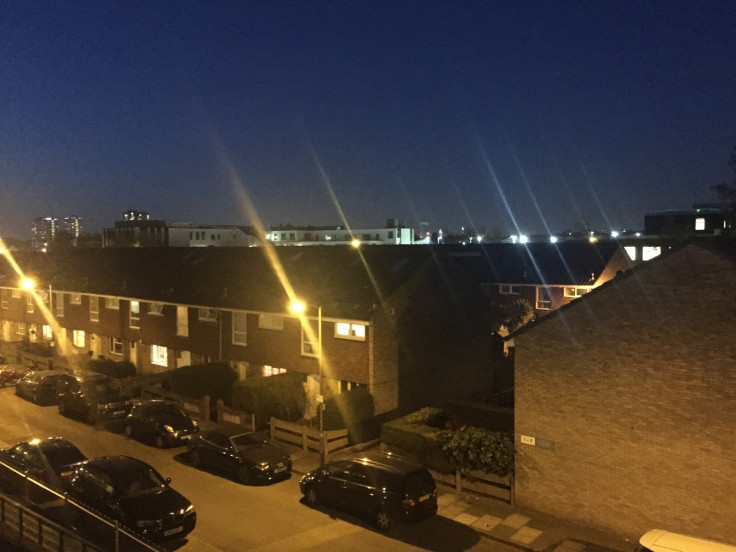 Elsewhere, the camera is quick to focus in daylight, takes good, fast photos, and there's the return of Huawei's 'Beauty mode' which automatically makes your skin paler and your eyes larger.
Huawei P8: Software and performance
Android 5.0 (Lollipop) runs on an HiSilicon Kirin 930 octa-core processor comprising two quad-core chips running at 2Ghz and 1.5GHz with 3GB of RAM. This sounds like plenty - and for most tasks it is - but the P8's performance isn't always what you'd hope it would be from eight cores and all that RAM. The main culprit here is Huawei's EMUI (or Emotion User Interface) software pasted over the top of Android.
Some way from the fairly subtle modifications of Samsung and HTC, Huawei's take on Android customisation makes some major changes. Firstly, there is no application drawer. Instead, like iOS, app icons are spread across the phone's various home screens. You can put the in folders and surround them with widgets, but the lack of one central place for all of your apps is strange at first. Also borrowed from iOS is a downward swipe on the home screen to launch a search bar for finding apps, contacts and messages.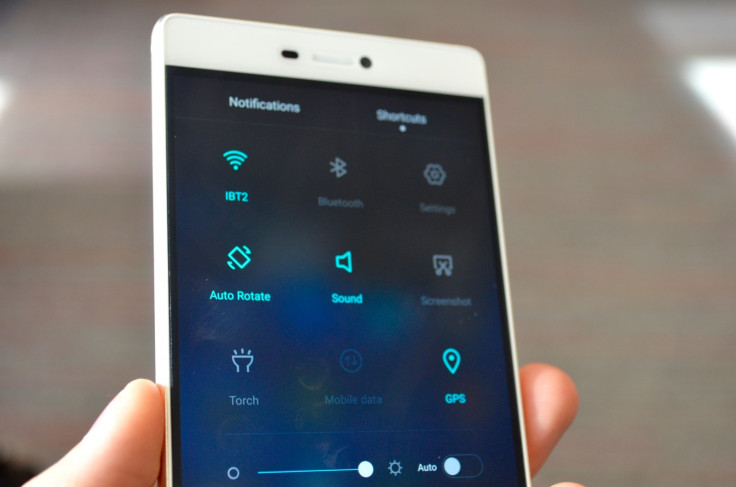 As for EMUI restricting the P8's performance, temperatures are often higher than on other handsets, while battery life takes a hit when playing games or using the phone as a Wi-Fi hotspot. Other phones suffer here too, but I felt the P8's battery fell more quickly than most. The 2,680mAh battery is slightly larger than last year's P7, but more than 24 hours of average use isn't really possible - you'll need to reach for your charger every night.
Beyond a few small performance and design issues, there are some noteworthy positives with the P8's software.One is the camera which, with a double-press of the volume down button when the phone is locked, opens the app and takes a photo in just 1.5 seconds. New for the P8 is knuckle sense technology, which lets you take screenshots by knocking twice on the screen; you can also capture a part of the display by drawing a square around it with your knuckle.
I mocked this feature during Huawei's launch of the P8 - mostly for likening it to the breakthrough of multitouch on the first iPhone - but, to be fair, it's a neat way of capturing all or part of the screen. A problem does occur, however, when playing some games. Knuckle sense can't be turned off and tapping furiously on the screen (especially with index fingers instead of thumbs) can confuse the phone and perform a screenshot instead of whatever combo-breaking move you were going for.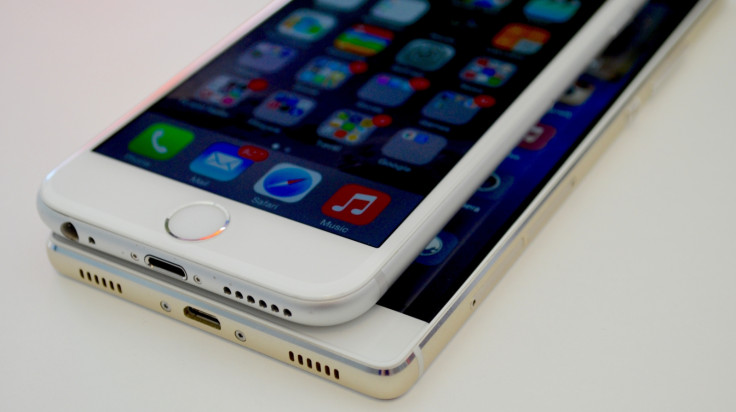 Huawei P8: The Verdict
For the last three years now, Huawei has set out to prove that flagship phones - if you don't mind leaving your brand snobbery at the door - can be much cheaper than you might realise. The P6 and P7 were two good but ultimately flawed steps in the right directions, and now the P8 is the most complete and capable step yet.
The design and build quality are both excellent, while both cameras are very good (save the slight over-exposing of the rear camera at night) and even the software isn't too bad once you get used to it. There are some performance letdowns, though, and the knuckle sense technology is often more a hindrance than a help; but beneath all that there's a genuinely good phone in there.
Drop the brand snobbery and learn to love an alternative brand, because if the Huawei P8 proves anything, it's that you can get a premium, flagship Android smartphone for less than you might think.
Huawei P8 Scores:
Screen: 7/10 - Resolution is as high as anyone needs, but let down by poor lighting and and yellow tinge
Camera: 8/10 - Perfectly good during the day and better than most at night, with some cool features if you've got a tripod
Software: 6/10 - There are some problems here, but different isn't always worse
Design: 9/10 - A lot has been borrowed from Apple, but it still looks original, and very attractive with it
Build Quality: 8/10 - Feels solid and as if it would survive a drop or two
Overall: 7/10 - Excellent hardware and a great camera, only let down by some software shortfalls and occasionally questionable performance which can often be overlooked
The Good:
Great design and build quality
Strong camera performance
Cheaper than the competition
The Bad:
Software not to everyone's taste
Battery can drain quickly
Rear gets warm under load