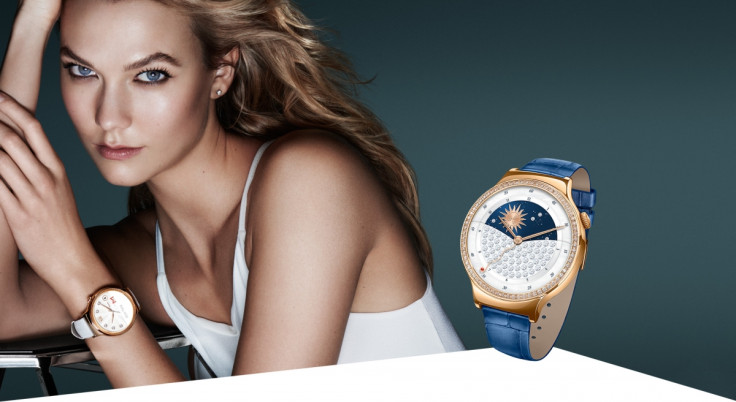 Huawei Watch for women, first unveiled at CES 2016, has made an appearance on Google's online store but is currently available only in Australia. The smartwatch has simply been listed as "coming soon" on the Google store. However, Australians will get their hands on the smartwatch from 20 April.
Huawei, in partnership with Vogue, has launched the two fashionable smartwatches for women — the Huawei Watch Jewel and the Huawei Watch Elegant — both of which will hit the market down under at a slightly escalated cost than their predecessor. The smartwatch collection, designed exclusively for women, was launched at an event in Sydney, the PC Authority reported.
Huawei Australia's marketing head Marc Di Giacomo said: "As fashion trends continue to evolve, wearable technology is now accepted and adopted as a conscious fashion statement. As one of the leading consumer electronics brands globally, Huawei is committed to leading the way in the fusion of technology and fashion to create products that are equal parts aesthetically-appealing, versatile and practical."
Both the smartwatch designs come with a rose gold frame. The Huawei Watch Jewel comes with an added bling factor. Designed in collaboration with Swarovski, the Jewel edition comes lined with a ring of 68 zirconia crystals on the edge. On the other hand, the Huawei Watch Elegant has a comparatively understated design and like its counterpart comes with a leather strap and is available in two colours — blue and white. Huawei will also offer 10 different customisable and feminine faces for the collection.
The new collection is powered by Android Wear and features a 1.4 inch touch-sensitive AMOLED screen and incorporates similar hardware as other Huawei smartwatches. The collection also boasts of voice-controlled features and additional gesture control features, thanks to the upcoming Marshmallow update. The two smartwatches are also iOS compatible.
The fashionable smartwatch collection has been priced at A$699 (£372, $528) and will be available to Australian consumers at Huawei outlets and select jewellery stores from 20 April. Given the collection's appearance on the Google store, a global launch for the special edition smartwatches is likely around the corner.