As the cast of The Hunger Games: Mockingjay - Part 2, including Jennifer Lawrence, Josh Hutcherson, and Liam Hemsworth, were preparing to march on stage to take part in their Comic-Con panel in San Diego yesterday (9 July), a large group of drummers, all dressed in white, surrounded the crowd and began hammering an atmospheric war beat.
At first, Comic-Con audience members were excited but remained a little confused, only to realise shortly afterwards that the spectacle simply lead to the latest teaser for the upcoming final film adaptation of the book trilogy written by Suzanne Collins, which possessed the same kind of militant feel.
Depicted on a giant screen above, the clip showed soldiers cocking their guns and standing in perfect ranks in what looks like a warehouse as hero Katniss Everdeen (Lawrence) intensely stomps her way through the troops to the foreground, as the encouraging phrases "stand with us" and "unite" appear.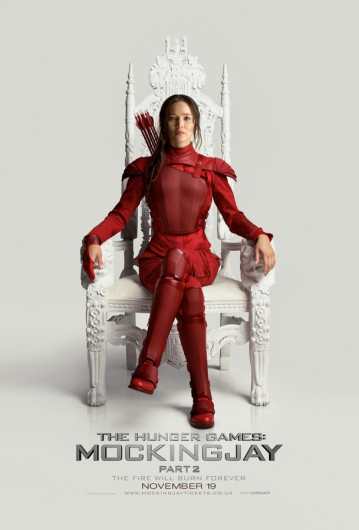 With Mockingjay – Part 1 mostly consisting of Katniss and her group of fellow rebels mentally preparing for the fight against their enemy President Snow, it appears as if Part 2 will undoubtedly deliver on the action side, as they finally battle their way to the Capitol in an attempt to assassinate the villainous dictator.
Fans that have read the trilogy prior to the movies will undoubtedly know whether Katniss and her comrades prevail but the rest of us will have to wait until the film is released on 19 November in the UK to find out.
Earlier this week, Lionsgate released a new poster, which saw Katniss atop of what has been known previously as Snow's throne, donning an eye-catching, combat-ready red suit with her iconic arrows slung across her shoulder.
The final instalment will feature a whole host of famous names with Donald Sutherland, Woody Harrelson, Elizabeth Banks, Philip Seymour Hoffman and Julianne Moore all reprising their roles from the previous films.
But looking at the most recent sneak peaks in promotion of the movie, it seems like this film is going to be largely about Katniss and her own personal potential triumph over Panem's oppressive leader, Snow.
During the The Hunger Games panel at Comic-Con yesterday, Part 2 director Francis Lawrence stated: "This is where Katniss gets back into action. She was a bit sidelined in the last movie, and going through some of her issues. But this time she's finally going after Snow and going into the Capitol with Squad 451."