Hunting Plc started its FY 2012 on a solid footing, as the energy demand remains firm. With a wide product and service offerings for its customers, the group has a global manufacturing presence in key energy regions around the world.
The FTSE 250 energy services company is scheduled to release its trading update on Wednesday, April 18, 2012.
With the help of its latest acquisitions, the group has widened the number of touch points in the oil and gas well bore and also it has many prospects to cross-sell products in its new and existing market segments, while enhancing the group's manufacturing efficiency with its enlarged operating footprint.
"2011 has seen the continued transformation of Hunting, with four acquisitions completed in the year. Of note is Titan whose products and services extend the Hunting offering further into the well bore, broadening our customer reach and enhancing the group's profile as a key supplier of well construction and completion products," said CEO Dennis Proctor while commenting on the growth.
In North America, shale related drilling will continue to support product demand as customers continue to focus on oil related resource plays. As activity in the Gulf of Mexico continues to increase, the group expects increased business in this area, which will increase the demand for its products.
In Europe, despite the less number of active rigs following the UK government's new tax legislation, new development projects continue to be sanctioned in the North Sea, which will maintain activity throughout the year. In South East Asia, the continued growth in demand for energy will support its manufacturing activities in Singapore and China, said Hunting.
Oil and gas demand will continue to rise as the group continues through the year, subject to the economic and geopolitical environment.
Industry commentators are anticipating a 70 percent rise in investment in capital spending over the next decade to achieve expected demand for hydrocarbon, which gives confidence that the group's products will be required in the coming years.
"Hunting's existing businesses have also exceeded management's expectations, with strong sales growth in the group's premium connections and manufacturing operations, particularly in the final quarter of the year. The group has started 2012 on a solid footing as the demand for energy remains firm and therefore is well positioned to deliver a further year of growth," added Dennis Proctor.
Below is a summary of sector comparisons in terms of price earnings, earnings per share, dividend per share, dividend yields, return on equity and price-to-book ratio. The table explains how the company is performing against its peers/competitors in the sector.The table below represents top ten companies based on market capitalisation.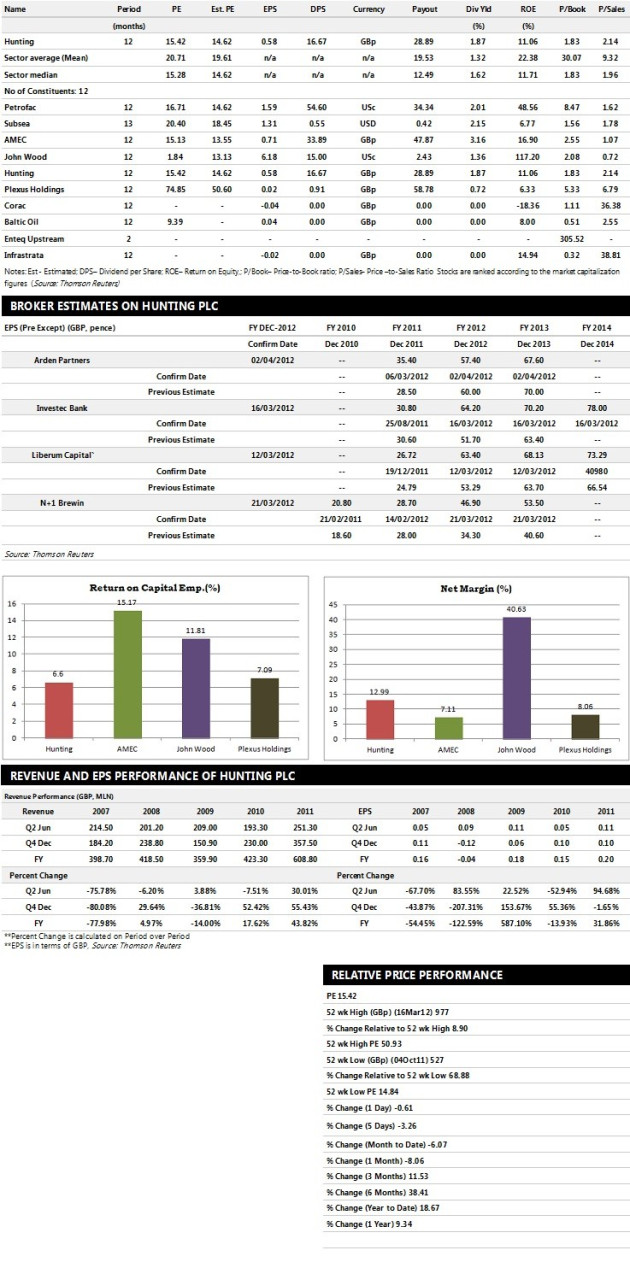 Brokers' Views:

- Arden Partners recommends 'Buy' rating on the stock
- N+1 Brewin assigns 'Buy' rating
- Finncap gives 'Buy' rating
- Investec Bank gives 'Buy' rating with a target price of 1,050 pence per share
Earnings Outlook:

- Arden Partners estimates the company to report revenues of £866.00 million and £944.00 million for the FY 2012 and FY 2013 respectively with pre-tax profits (pre-except) of £122.00 million and £157.00 million. Earnings per share are projected at 57.40 pence for FY 2012 and 67.60 pence for FY 2013.
- N+1 Brewin projects the company to record revenues of £742.40 million for the FY 2012 and £806.20 million for the FY 2013 with pre-tax profits (pre-except) of £106.80 million and £122.60 million respectively. Profit per share is estimated at 46.90 pence and 53.50 pence for the same periods.
- Investec Bank expects Hunting to earn revenues of £810.00 million for the FY 2012 and £880.00 million for the FY 2013 with net profits of £94.20 million and £118.60 million respectively. EPS is projected at 64.20 pence for FY 2012 and 70.20 pence for FY 2013.