Following on from the first-look character posters released earlier this week, Universal Pictures have debuted a teaser trailer for the upcoming fantasy movie, The Huntsman: Winter's War starring Charlize Theron and Emily Blunt.
"If it's a fairytale you're hoping for, prepare yourself for so much more," narrates Theron's Evil Queen Ravenna in the snippet, which gives off a surprisingly dark tone even when considering how 'grown-up' the first movie was.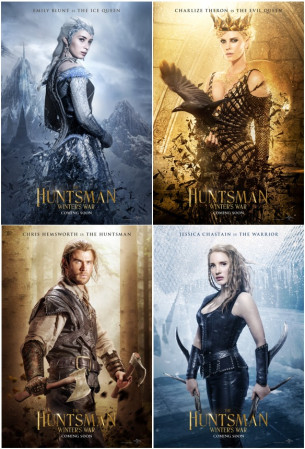 Labelled as both a prequel and a spin-off, the story is set partly before and somewhat separate to the 2012 original Snow White And The Huntsman. The official synopsis is as follows:
"Long before the evil Queen Ravenna was thought vanquished by Snow White's blade, she watched silently as her sister, Freya (Blunt), suffered a heartbreaking betrayal and fled their kingdom.
"With Freya's ability to freeze any enemy, the young ice queen has spent decades in a remote wintry palace raising a legion of deadly huntsmen – including Eric (Chris Hemsworth) and warrior Sara – only to find that her prized two defied her one demand: Forever harden your hearts to love.
"When Freya learns of her sister's demise, she summons her remaining soldiers to bring the Magic Mirror home to the only sorceress left who can harness its power.
"But once she discovers Ravenna can be resurrected from its golden depths, the wicked sisters threaten this enchanted land with twice the darkest force it's ever seen. Now, their amassing army shall prove undefeatable...unless the banished huntsmen who broke their queen's cardinal rule can fight their way back to one another."

Set to Halsey's electro-pop track Castle, the 15-second trailer evokes Lord Of The Rings, and certainly makes sure it has time to show off the two evil queens. Blunt's menacing Ice Queen can be seen riding forth on an armoured bear through shattering buildings, whilst Theron's Ravenna is seen spilling black liquid from her mouth and laughing maniacally towards the end of the clip.
The movie was directed by French director Cedric Nicolas-Troyan who is surprisingly better known for his work in visual effects, after being nominated for such work in Snow White And The Huntsman. The script that Nicolas-Troyan worked with was partly written by The Walking Dead screenwriter Frank Darabont, despite him exiting the project shortly after leaving Universal. Jurassic Park's David Koepp, Craig Mazin and Evan Spiliotopoulos also helped pen the final plot.

As well as Theron, Blunt and Hemsworth, the film also stars Crimson Peak's Jessica Chastain who will portray Eric's warrior ally Sara, The Hunger Games' Sam Claflin, reprising his role from the first instalment, and comedian Nick Frost who will undoubtedly be returning to his part as Nion, one of the eight (that's right, eight) dwarves. Newcomers Alexandra Roach, Sheridan Smith and Rob Brydon will also appear in the movie.
It's safe to say, that with the promising cast and those visuals, fans are bound to be excited for this instalment, the only downer is that teaser trailers are never quite long enough. But if you're desperate to see more footage from the forthcoming movie then fear not, as the official trailer will actually be released tomorrow (19 November)!
For more entertainment news follow A-List on Twitter @Alistinsider