Now that hugely-popular television show Game Of Thrones has reached the same point as George RR Martin's fantasy novels in terms of storyline, it's anyone's guess as to what will happen next. Especially considering how many new faces they've added ahead of the next instalment.
As season six is expectedly shrouded in mystery, newcomer Ian McShane has opened up about his currently unknown role and just what part he will play in the upcoming episodes.
In an interview with Pop Goes The News, the Deadwood actor intriguingly stated: "I am responsible for bringing somebody back that you think you're never going to see again," the 73-year-old told the publication (via Vanity Fair). "I'll leave it at that."
Fans of the show online have long speculated that McShane will appear as Septon Meribald (the Elder Brother), a leader of the community on The Quiet Isle. A character known to have powerful abilities as a healer, McShane's tease certainly ties in with the rumour, but only time will tell who he's actually playing.
Either way, we won't get to see him for long... "[It's] a one-off episode," he continued. "That's why I did it. But I can't reveal anything, otherwise I will never work again.
Many hope that the person McShane's character is bringing back is favourite Jon Snow. A hope fuelled by the fact that the actor who plays him, Kit Harington was spotted lurking around the set recently as the cast film scenes for the upcoming season, but given how much of a central character Snow was, it seems unlikely that a cameo character would be so monumental in bringing him back from the dead.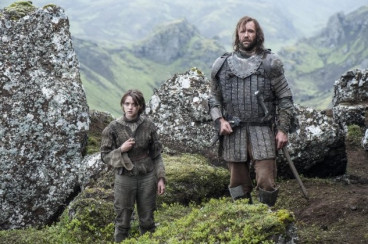 Another character that has been thrown into the mix is The Hound aka Sandor Clegane - who Arya (Maisie Williams) left to die at the end of season four. Considering his fate was less obviously certain than Snow's, he seems like the more realistic option.
Like Harington, Hound actor Rory McCann has been seen on location in Belfast during filming, which hints at his return. Within the novels, Meribald and The Hound supposedly cross paths in The Quiet Isle, around the same time Brienne comes across the healer, as she searches for Sansa Stark, (which fans of the show will know she was doing at the end of the last season).
One last intriguing speculation, albeit a loose one, is that McShane's character will introduce major literary character Lady Stoneheart, otherwise known as an undead (and completely different) Catelyn Stark who has vowed vengeance against anyone who collaborates with the Lannisters. Another character that Brienne meets through Meribald.
However, speaking in Chicago, author Martin previously stated how keen he would be for such a plot within the show, detailing that "was a major storyline in the books". Considering how closely he works as a consultant for the HBO series, could that mean that a Stoneheart introduction is just wishful thinking come next season?
For more entertainment news follow A-List on Twitter @Alistinsider