Despite adamantly stating back in 2012 in multiple interviews that "Prometheus is not a prequel to Alien", director Ridley Scott seems very keen on linking the two together nowadays. In a recent interview, the 77-year-old stated that not only is he planning to make more sequels to Prometheus, they will eventually explain just who made the antagonistic aliens who have featured across the entire series.
"Prometheus 2 will start getting shot in February and I've already begun now so I know what the script is," Scott said, when discussing the sequel aka Alien: Paradise Lost... (are you sure you didn't want them to be linked all along, Ridley?) "Then there will be another one after that and then maybe we'll back into Alien 1, as to why? Who would make such a dreadful thing?"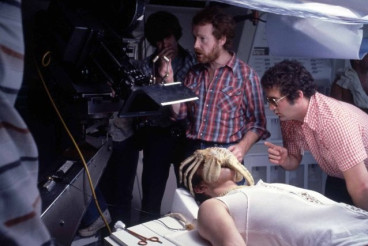 By "make such a dreadful thing", The Martian helmer is referring to the origins of the aliens, something that has never been addressed across the entire franchise, which has been expanding since the first movie was released 36 years ago.
Despite being known for the movies, Scott in fact only directed Alien in 1979, moving on from the franchise to other projects including 1982's Blade Runner. As a result, the sequels went through several directors including James Cameron and David Fincher, meaning the series did not necessarily go in the direction Scott originally intended.
And it is evident that with the Prometheus side of things, he wants to maintain control, seeing out the sequels for as long as possible so it reaches his planned conclusion. "I'm trying to keep this for myself. I let the other one [Alien] get away from me – I shouldn't have," he admitted. "I'm trying to re-resurrect the beast and let if off the hook for a while because I'm coming back into the back-end of Alien 1. I'm gradually getting to Alien 1."
Alien: Paradise Lost will see stars of the first instalment Noomi Rapace and Michael Fassbender return to their roles as Dr Elizabeth Shaw and android David respectively and are rumoured to be being joined on screen by Mission: Impossible - Rogue Nation's Rebecca Ferguson. Academy award-winning screenwriter John Logan (Spectre) has been brought aboard to pen the script, with Scott acting as producer alongside Alien franchise veterans Walter Hill and David Giler.
For more entertainment news follow A-List on Twitter @Alistinsider