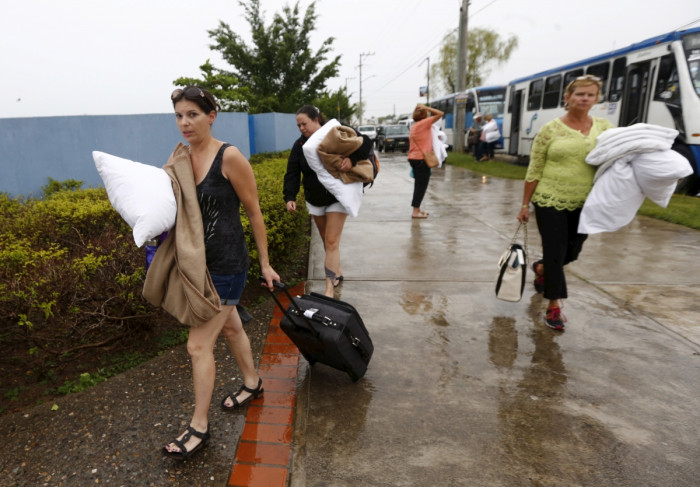 The governments of the United States and Mexico have warned residents and tourists on the Pacific Coast to take shelter and avoid beaches, as the largest ever Western Hemisphere hurricane approaches land. With sustained wind of up to 200 mph Hurricane Patricia is more powerful than Katrina, which killed 1,836 in the US in 2005, and comparable to typhoon Haiyan, which killed 6,300 in the Philippines in 2013.
The Category 5 storm is expected to make landfall at approximately midnight GMT (23/4 October), bringing waves of up to 40 feet and torrential downpours as well as winds strong enough to destroy buildings. Mexico's authorities have declared a state of emergency and tens of thousands of local people and tourists are being evacuated from resort city of Puerto Vallarta, according to Vallarta Daily.
Interior Minister Miguel Angel Osorio told Mexico's Radio Formula: "We need people to understand the magnitude of the hurricane, it is a devastating hurricane, the biggest one ever registered."
On its official blog the US Department of State warns tourists in the Mexican states of Michoacan, Colima (which includes Manzanillo), Jalisco (which includes Puerto Vallarta), and/or Nayarit to take shelter, avoid beaches and listen for media reports. Tourists are also warned of the danger of downed power lines.
"The Government of Mexico is opening shelters in Jalisco state, ordered schools to close and ships to return to port, and is sending out messages to the population," advises the blog. "We can confirm that the airport in Puerto Vallarta is closed at this time."
The warning continues: "Stay clear of beaches. Rough seas associated with storm conditions create severe hazards. Swells may cause life-threatening surf and rip current conditions. Take precautions against the effects of rain, strong winds, and large and destructive waves. Watch for flooding and mudslides."
The UK Foreign and Commonwealth Office has also posted a warning for UK visitors to Mexico: "Hurricane Patricia is increasing in strength and now a Category 5 hurricane. If you are in the affected area or are concerned about someone who is, you should follow local advice or call the British Embassy in Mexico City on (0052) 55 1670 3200."