The husband of a woman who was reported missing from her home in Clydebank two weeks ago, has made an emotional appeal, urging her to meet him.
Karen Brown, 47, left the family home on Kirkwood Avenue in Clydebank at 07:00 on Saturday 14 October.
She then took a Megabus to London from Buchanan Street Bus Station in Glasgow at 8:20am that morning.
She was last seen at Hamleys toy store on Regent Street in London on CCTV wearing wearing a pink fleece top, white trainers, a maroon jacket and carrying an Asda bag for life.
Her husband, Jock Brown, 48, said his family are "missing her terribly" since she disappeared. He has said he will wait for her at the London toy store between 12 noon and 1pm on Saturday in the hope that she will meet him there.
In a statement Mr Brown said: "We are all extremely worried about Karen, and the family are desperate to find out that she is safe and well."
Appealing directly to his wife, he added: "We all love you and are missing you terribly. We just want you to come back home, but if you are not ready to do this, please let police know that you are safe."
Her husband reported the mother-of-two missing after she failed to return home from her work later that day.
Mrs Brown is described as white, 5ft 6in tall and of medium build with collar-length brown hair.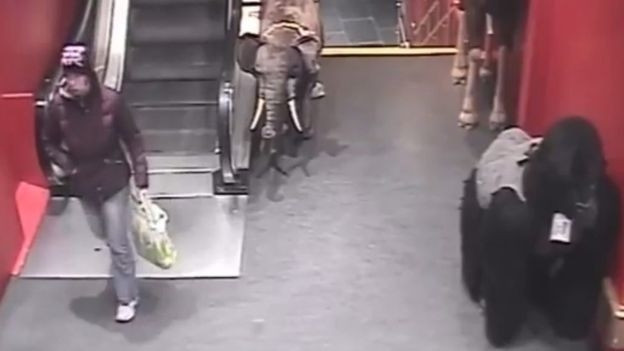 Insp David Quinn, of Clydebank police office, told BBC News: "Extensive inquiries are continuing to trace Karen, and we are liaising with our colleagues at the Metropolitan Police in London and also with Hampshire Constabulary, as she is known to have links to that area too.
"Despite widespread media coverage and appeals, we have received no further information regarding Karen's whereabouts and we are extremely concerned.
"I would also appeal to Karen directly to please make contact with police to let us know that she is safe and well. Anyone with information that will help our enquiry should contact Clydebank police station."