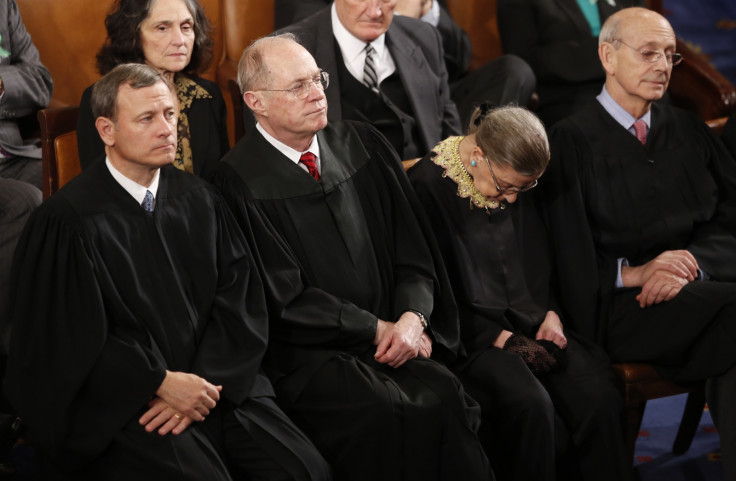 US Supreme Court Justice Ruth Bader Ginsburg has admitted she "wasn't 100% sober" when she fell asleep during last month's State of the Union address.
Ginsburg had set tongues wagging after slumping in her chair as US President Barack Obama addressed the joint session of Congress in the House of Representatives on 20 January.
She was asked about the incident by the moderator during a joint appearance with Justice Anthony Scalia at George Washington University on Thursday evening.
"The audience for the most part is awake, but they're bobbing up and down all the time. And we sit there as stone-faced, sober judges. But we're not," she said, as the audience laughed.
"At least I wasn't 100% sober when we went to the State of the Union," she confessed, blaming the wine served before the speech.
Justice Ginsburg, who at 81 is the Supreme Court's oldest serving judge, said she had sworn she would stick to sparkling water after falling asleep during past speeches. In the end, the charms of a "very fine California wine" served by Justice Anthony Kennedy prevailed.
"Well, that's the first intelligent thing you've done," joked Justice Scalia, who like several other conservative judges makes a point of not attending the State of the Union.
"The dinner was so delicious it needed wine," Ginsberg said, explaining that in previous years, former Justice David Souter would wake her up whenever she fell asleep.
"When he was on the court, he was on one side and he had acute sense of when I was about to, so he would give me a pinch," she said. "Now I have Justice Kennedy on one side and Justice [Stephen] Breyer and they are sort of timid about that thing."
When she got home, she got a call from one of her granddaughters, who had been watching the speech on TV. "'Bubbe, you were sleeping at the State of the Union!"' she said.