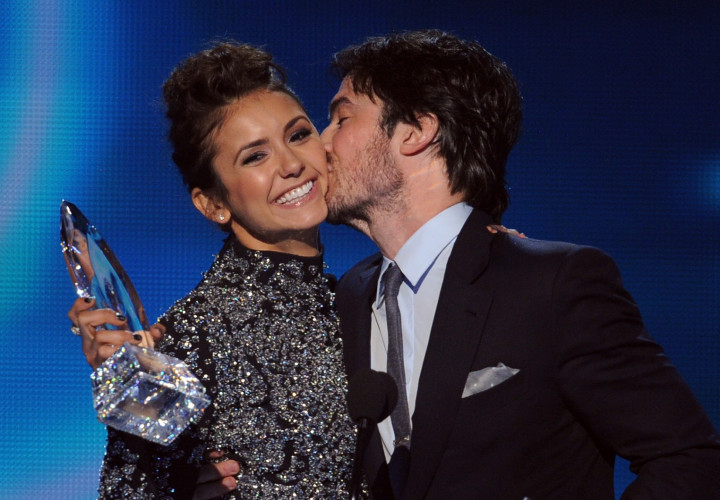 Ian Somerhalder and Nikki Reed's constant public display of affection on The Vampire Diaries set has irked many actors, particularly Somerhalder's ex-girlfriend Nina Dobrev.
The producers of the hit CW show are worried that Dobrev might quit the series when her contract expires at the end of season six.
"Ian and Nikki's relationship is causing a lot of drama, to the point where the producers have asked Ian not to bring Nikki to set when Nina is there because they are very worried about losing her. They worry that the show would fall apart without her," a source told HollywoodLife.com.
The Vampire Diaries is currently in its sixth season, which is the last one Dobrev has signed for.
"It's unlikely that Nina would try to get out of her contract in the middle of this season, but it's something producers are worried about. It would be very costly for Nina to get out of her contract now, but things like that have happened before, so everyone's walking on eggshells with her. Not to mention the fact that Nina hasn't signed anything for anything beyond season six," the source added.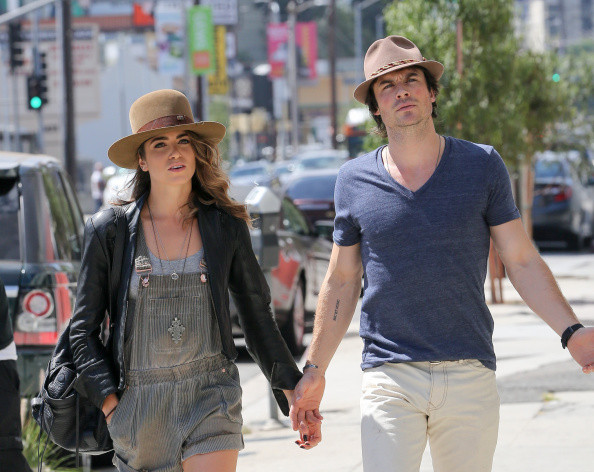 Another report suggest that Somerhalder, blinded by his love for the Twilight star, is not paying heed to conflicts on the sets.
"The general feeling is that Ian is being very insensitive about this, and that's putting it nicely," a source told HollywoodLife.com.
The website claims that producers warned Dobrev and Somherhalder from dating in the first place, predicting that it could cause trouble for the show's future.
"This is exactly why producers actually tried to forbid Nina and Ian from dating. They were worried something like this would happen. Ian and Nina tried to hide their relationship for so long because they were very strictly forbidden from that, but obviously they did go there. Exactly what they promised wouldn't happen, has happened, and it's getting in the way of their work."
Fans are hoping that the actors could talk out their differences and continue with their work like true professionals. Also, The Vampire Diaries will lose its charm without its favorite couple, Damon (Ian Somerhalder) and Elena (Nina Dobrev).
Here are a few fan tweets:
@ninadobrev pls dont quit TDV! You belong there

— suggggacube (@vanillaxmermaid) October 12, 2014
@ninadobrev please do not quit TVD. — Andres Wiest (@4wheelindemon) October 17, 2014
I seriously doubt that @ninadobrev will quit #TVD over @iansomerhalder & @NikkiReed_I_Am relationship. Nina aint that unprofessional. Right?

— Nicole☃ (@nicole_joorst) October 15, 2014
Nina Dobrev Will Quit The Vampire Diaries If Ian Somerhalder Renews Contract – She Headed To The Originals? http://t.co/1WICTyWYvv #cdltv

— Celeb Dirty Laundry (@celebdirtylaund) October 2, 2014