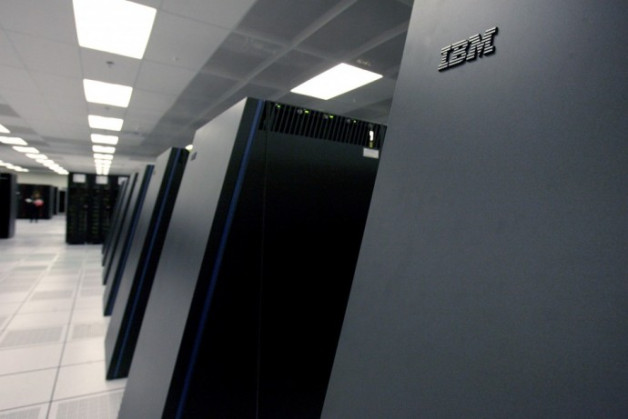 Tech giant International Business Machines has reported better-than-expected fourth quarter profits helped by its growing software businesses though the revenues remained largely flat.
IBM's net profit was $5.83bn (€4.38bn, £3.68bn), or $5.13 per share, in the fourth quarter, up 6 percent from $5.49bn, or $4.62 per share, in the same period a year earlier.
Excluding one-time items such as acquisitions and pension costs, net profit was $6.1bn or $5.39 a share, beating analyst estimates of $5.25 per share in a Thomson Reuters poll.
Total revenues declined marginally to $29.30bn from $29.49bn, but topped analysts' expectations of $29.1bn. Revenue from software was up 3 percent at $7.9bn, while revenue from hardware fell 1 percent to $5.8bn and revenue from technology services fell 2 percent to $10.3bn.
Gross margin for the fourth quarter improved to 51.8 percent from 49.9 percent in the year-ago quarter.
For the full-year, IBM recorded a 5 percent increase in net income to $16.6bn, on revenues of $104.5bn.
"Our performance in the fourth quarter and for the full year was driven by our strategic growth initiatives -- growth markets, analytics, cloud computing, Smarter Planet solutions -- which support our continued shift to higher-value businesses," said Ginni Rometty, IBM chairman, president and CEO.
The economic weakness in Europe has been affecting IBM sales over the last few quarters. In the third quarter, it reported a 5 percent year-over-year decline in sales.
Nevertheless, the company was more optimistic on fiscal year 2013, expecting operating earnings per share of at least $16.70. Analysts expect earnings of $16.63 per share for the year.
"Looking ahead, we continue to invest to deliver innovations for the enterprise in key areas such as big data, mobile solutions, social business and security, while expanding into new markets and reaching new clients. We are well on track toward our long-term roadmap for operating EPS of at least $20 in 2015," Rometty added.
IBM's services backlog, representing future revenues, reached $140bn in the quarter, compared with $138bn in the third quarter. Contract signings for services, which make up about 60 percent of IBM revenue, fell 12 percent from a year earlier to $17.9bn.
Since her appointment as CEO of the company, Rometty put in place a five-year plan to generate maximum profit from software business by 2015. The company targets $20 in earnings per share by 2015.