Malcolm Walker, the boss of supermarket chain Iceland, has launched an expletive-laden tirade aimed at rivals Aldi, Lidl and Asda that references allied victories in the World Wars.
Walker, referring to Aldi and Lidl, told IBTimes UK: "We've beaten the Germans twice before and we'll f*****g beat them again. There are the Germans and then there's Asda, a bunch of f*****g Americans, we're inundated with foreigners, Iceland is a British supermarket."
Aldi and Lidl are German owned while Asda is owned by US giant Walmart.
The chief executive also claimed Iceland is already "as cheap as the f*****g Germans", referring to claims that Aldi and Lidl are unbeatable on price.
Iceland is struggling amid a brutal supermarket price war. In 2014, it reported flat like-for-like sales while earnings fell 11% to £202.2m (€280m, $300m). The numbers are expected to fall again in 2015.
Alongside Iceland, the traditional "big four" supermarkets – Tesco, Sainsbury's, Morrisons and Asda – have all seen their market share come under pressure as budget brands Aldi and Lidl have grown. British shoppers have shunned large supermarkets in favour of smaller convenience stores in recent years.
The entire sector has responded by slashing prices across the board. Although good news for consumers, it has created downward pressure on profit margins. While promising to invest further in reducing prices, Walker believes price is no longer the most powerful weapon in the war, but quality.
"Everybody is cheap now, every supermarket has cut prices. What differentiates now is quality. Iceland's problem has been highlighting that we have that quality," he said.
Walker critical of 'Guardian snobbery'
Walker also bemoaned what he called snobbery towards Iceland from "Guardian readers" and hailed the supermarket's new advertising campaign.
He said: "Iceland suffers from a perception that comes mainly from Guardian-reading Waitrose shoppers, that our product is inferior. It's just not true, and hopefully our new adverts with Peter Andre illustrate that. Before, we'd just bung some fish fingers on our adverts with a cheap price. But now, with Peter on the barbecue, it's about showing that we have scallops and really good stuff on offer. We're not just about cheap fish fingers."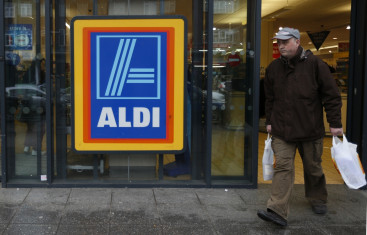 Iceland recently launched a trial of a new Food Warehouse concept, where luxury items such as champagne and lobster will be sold alongside the supermarket's usual budget offerings. It has six such outlets and will expand if the trial proves successful, Walker said.
In 2014, Iceland completed a £980m refinancing, which led many observers to speculate an Initial Public Offering (IPO) could be on the cards. However, Walker moved to quash any suggestion of a floatation.
"The last thing on earth I want to do is list the company, no way. We're totally private, have no bank debt and are run by extremely supportive shareholders, we are the long-term greedy. Listed companies are obsessed with like-for-like sales, I don't give a s**t about like-for-likes," he said.
Lidl declined to comment. Aldi and Asda did not respond to requests for comment.
Today, Walker was one of 100 senior executives and businesspeople who signed a letter to The Telegraph, hailing Conservative economic policies which they say show that "the UK is open for business".
The Iceland Saga
"Though sometimes confused with a small country of Viking origins on the fringes of the Arctic Circle, the real Iceland is a unique, fast-growing British food retailing business with over 830 stores throughout the UK," states Iceland's website.
Iceland began life in 1970 when Malcolm Walker and business partner Peter Hinchcliff invested £60 for one's month rent on a new store in Leg Street, Oswestry, Shropshire. They worked at Woolworths at the time and were later sacked for moonlighting at the new venture.
By 1980 this loose frozen food business had grown to 37 purpose built freezer centres and developed its own branded products. By the time it floated in 1984, Iceland had 81 stores and its IPO was 113 times oversubscribed, making it one of the most successful offerings on the London Stock Exchange.
In 1986 Iceland became the first UK supermarket to remove artificial colourings, flavourings and non-essential preservatives from its own brand products, two decades before some of its major rivals.
Iceland won a hard fought battle in 1989 to take control of its biggest rival Bejam, which gave the chain 465 stores and a truly national reach. By 1995 Iceland had 752 stores and had clocked up an impressive 25 years of consistent profit growth. It had also banned mechanically reclaimed meat from all its stores and developed a range free of GM ingredients.
The company merged with Booker in 2000 and Stuart Rose took over as CEO, only to leave later that year. This management vacuum was filled by Bill Grimsby and Walker was forced to step down over alleged share dealing impropriety, from which he was later cleared in 2004. However Iceland's fortunes declined spectacularly in the first half of the decade.
Walker was reinstated as chief and the company was returned to private ownership in 2005. Since 2006 it has been making a gutsy comeback, and by 2010 it reported pre-tax earnings of £184.2m and had opened 74 new stores during that year.
The company has a history of supporting a number of charities including Help for Heroes, Alzheimer's Research UK and Prostate Cancer UK.