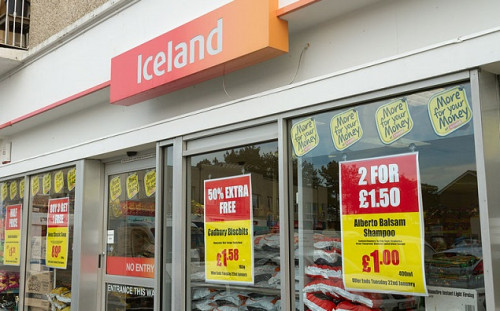 Three men have been charged after they were caught stealing £33 worth of food from the bins of a branch of the Iceland supermarket chain.
The suspects, Paul May, Jason Chan and William James, were arrested on 25 October after a member of the public phoned the police when he saw them climbing over a wall round the back of an Iceland supermarket in Kentish Town, north London.
Police found the men with a trolley full of food worth £33 that the store had thrown out. The food items the men were alleged to have taken included tomatoes, mushrooms, cheese and Mr Kipling cakes.
The men were taking the food as part of practice known as "skipping" where people take food waste that supermarkets and other shops have thrown out to cook and eat for themselves
May is expected to argue when his trial begins in February that he only took the food because he was hungry and saw nothing illegal about taking food the supermarket was willing to throw out, according to the Guardian.
He is also hoping magistrates will scrutinise how supermarkets are willing to throw out tonnes of food every year while promising to reduce waste. Meanwhile, people in the UK are forced to shop at food banks. It will also examine the reasons why groups of people are willing to resort to taking food from bins in order to feed themselves.
The three were originally arrested for burglary but have now been charged under an obscure section of the 1824 Vagrancy Act for being found in "an enclosed area, namely Iceland, for an unlawful purpose, namely stealing food".
The section under which the men were charged deals with crimes committed by people "deemed to be rogues and vagabonds".
The Crown Prosecution Service said there is "significant public interest" in prosecuting the three individuals.
Malcolm Walker, CEO of Iceland, said the supermarket did not ask for the three men to be prosecuted.
He said: "The store is next to a police station. We did not call police, did not seek prosecution and I knew nothing before [the Guardian's story].
"We are currently investigating with the CPS to find out why they have decided to take case to court."
An Iceland spokesperson added: "On the issue of food waste more generally, we work very closely with all our suppliers to minimise the amount of waste food Iceland generates. Products are only designated as waste when they have passed their use-by dates and are considered unfit for human consumption.
"We utilise secure storage areas and/or locked waste bins to dispose of such products because allowing them to be consumed by members of the public would constitute a significant health and safety risk.
"All our food waste is ultimately disposed of through an environmentally friendly process of anaerobic digestion."
A CPS spokesperson said: "Jason Chan, William James and Paul May have been charged with being found in or upon enclosed premises, contrary to section 4 of the Vagrancy Act 1824. The next hearing is 3 February at Highbury Magistrates' Court for trial.
"As usual, we will not be discussing the prosecution case in detail ahead of the trial."
The act of "skipping" – also referred to as "dumpster diving" or "freeganism" - is believed to have started in New York and has since become a worldwide movement.
In many cases, those who take food from supermarket bins can afford to pay full price for the items, but consider the act as a "total boycott of an economic system where the profit motive has eclipsed ethical considerations", according to a spokesperson from Freegan.info.