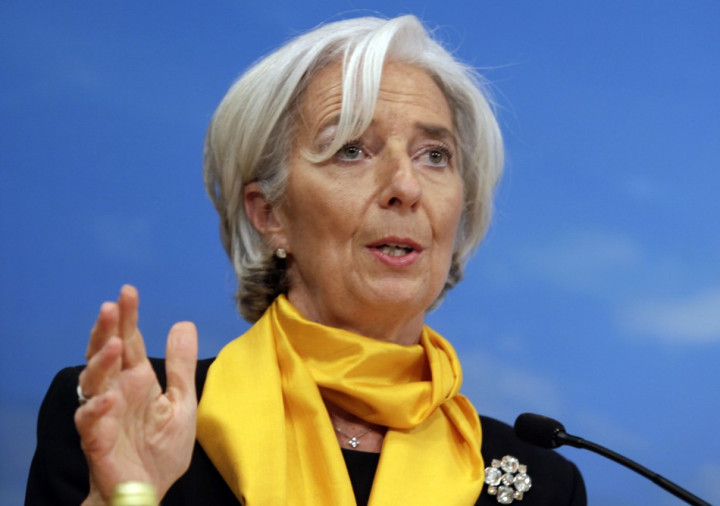 All financial market eyes are turning back to Britain as the International Monetary Fund starts its annual visit to the UK.
There is heightened anticipation as to whether the visit will be a sour one, after the IMF chief Christine Lagarde recently delivered a stinging attack on the US government's budget cuts.
With austerity measures being the feather in UK Chancellor George Osborne's cap, there is no doubt that slashes in spending, among other crucial topics, will be on the agenda.
"George Osborne should not arrogantly dismiss the advice of the IMF team flying into London this week," said Chris Leslie MP, Labour's Shadow Financial Secretary to the Treasury in a statement to IBTimes UK.
"It's time the Chancellor listened to their warnings that his failing economic policies are playing with fire and that Britain now needs a plan B for jobs and growth."
Austerity Measures
Britain's coalition government is married to austerity measures.
From elections until now, Prime Minister David Cameron and the UK Chancellor have stuck to slashing spending and either shutting down or reallocating resources, from various government sectors.
Arguably, and as stated by the world's largest ratings agencies, these spending cuts have allowed beleaguered Britain to retain its triple-A rating for a longer length of time, compared with other Eurozone countries.
It was only years after France lost its coveted AAA rating that Britain followed suit.
However, it is unlikely to result in complicated talks with the IMF.
Lagarde is known for not mincing her words.
Only a couple of weeks ago, Lagarde criticized the US government's budget policies as being too tight, in a trip to Amsterdam.
She said that the debt reduction plans are too abrupt and if current policies are maintained this year "the US economy would be contracting by over one and a half percent."
It will be intriguing to see what she has to say about the state of the UK economy.
Slowing Down the Economy
Tied into austerity measures, the IMF will undoubtedly question the impact it has had on the UK economy.
At a recent talk at the University of Amsterdam, Lagarde explicitly stated that the IMF doesn't believe "that austerity and growth are mutually exclusive."
It doesn't help that last month, the benchmark, empirical economic research by esteemed Harvard economists Carmen Reinhart and Kenneth Rogoff and used by governments around the world to install strict austerity measures, was found to be inaccurate.
The study, first presented in 2010, said a country's GDP growth begins to slow once its debt-to-GDP ratio reaches at least 90%.
The UK, as well as the US and European Union, used it to justisfy strict measures for tackling deficits.
However, a student at the University of Massachusetts Amherst revealed that there was a basic error in the data spreadsheet and that the professors accidently omitted the Australia, Austria, Belgium, Canada and Denmark economies.
With this in mind, the sluggish UK economy, despite austerity measures, will be highlighted by the IMF.
The IMF has already lowered its economic forecast for the UK, as recently as last month. The group's World Economic Outlook report stipulated that "the UK was "progressing slowly."
Talks will hinge on growth, for sure.
While the IMF's forecasted growth for Britain rests at just 0.7%, after saying in January that the UK economy should expect 1% growth.
However, the figure is slightly above the 0.6% growth forecast in the UK Chancellor's Budget.
While it should be noted that the IMF revised down the entire world's economic growth to 3.3%, down from 3.5% forecast six months ago, proposed methods for reviving the stagnant economy will be on the cards.
Social Unrest
Underneath the headline figures, policy changes, slashes in spending and Eurozone bailouts, social unrest is getting stronger.
With the 27-country eurozone in recession, Lagarde and a number of economists are hitting back at the Germany-led drive for all members to get their budget deficits under 3%, as soon as possible.
The student protest at Lagarde's recent talk will be fresh in her mind and there is no doubt that there will be various pressure groups protesting and demonstrating on a number of issues, such as high unemployment, cuts in social spending and executive pay.
"This stagnation in our economy is the reason why people are worse off than when this government came to office," said Ed Balls MP, Labour's shadow chancellor in a statement sent to IBTimes UK.
"They took an economy that was starting to grow strongly, with falling unemployment and a falling deficit, and delivered stagnation, rising unemployment and £245bn more borrowing than planned. The government's economic policies have failed and Britain's families and businesses continue to pay the price."
Last month official figures revealed that the eurozone jobless rate rose to a new record high in March with big economies in the region, Germany, Spain and Italy, reporting little improvement on the employment front.
While the Eurozone, especially Spain and Italy, reporting high unemployment figures, Britain is not faring well either.
According to the think-tank, the Institute for Public Policy Research, last month, youth unemployment will hit one million again, with London and the north of England most afflicted by a population of workless young people.
Overall there are 993,000 young people unemployed - or 21.2%.
In London 25.5% of young people - 126,000 - are unemployed.
This is the region with the worst youth unemployment. Second place is the North East, where 24.8% of 16 to 24-year-olds, 51,000, are not in work.
We don't need to be reminded that the London riots only happened 18 months ago.
Also, according to the Office for National Statistics last month, UK unemployment rose by 70,000 to 2.56 million between December and February.
These figures show the human fallout of austerity measures and UK government can't ignore this.
However, I am sure that Lagarde will push for a heated debate - at the very least.