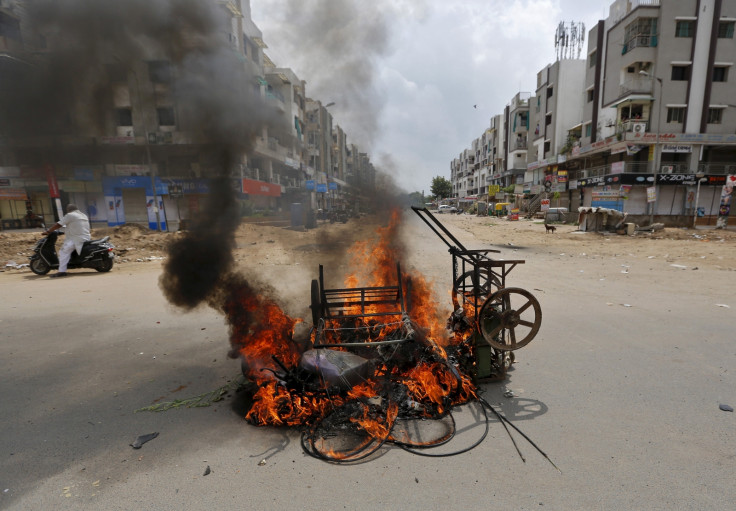 The army has been called in as violence flared up in riot-hit western Indian state of Gujarat. At least three people have been killed in clashes between protesters and police.
All the deaths were reported from the former provincial capital Ahmedabad. The violence followed the brief arrest of Hardik Patel, who is spearheading a community-inclined campaign.
The provincial government has taken a series of steps to maintain calm including imposition of curfew in sensitive areas such as Surat, Mehsana, and Visnagar. Apart from troops, at least 5,000 paramilitary forces have been deployed to bring the situation under control.
Prime Minister Narendra Modi, whose home state is Gujarat, appealed for calm. The 22-year old leader, Patel, was arrested by the police following his massive rally, which was attended by nearly 500,000 protesters, demanding special status for the Patel community.
Internet and mobile services have been suspended to stop the circulation of campaign messages. "I have asked for the report regarding police baton charge on the crowds at GMDC (Gujarat Mineral Development Corporation) ground where the agitators were on fast unto death after the rally," said Chief Minister Anandiben Patel. She added federal Home Minister Rajnath Singh had been briefed on the situation.
The crackdown on the protesters further infuriated the crowds, who police claimed, stormed state-run buildings in some places. About 50 buses and some ATMs were reported to have been torched.
Speaking at the rally on Tuesday, 26 August, Hardik warned: "Only if our demands are met will the lotus [symbol of the ruling Bharatiya Janata Party] bloom in the 2017 assembly elections in Gujarat or else never again. We may be 18 million in Gujarat, but nationally we are 270 million. The Chief Minister of Bihar Nitish Kumar is from our community and so is Andhra Pradesh Chief Minister Chandrababu. In all, we have 117 Patidar members of parliament. This demonstrates our strength and reach."