History was created when three women pilots were inducted as fighter pilots in the Indian Air Force on Saturday. The induction, although on an "experimental basis" for now, has paved the way for women to make their mark in yet another male bastion.
The graduation parade at the Indian Air Force Academy held on Saturday in Hyderabad in southern India saw pilots Avani Chaturvedi, Mohana Singh and Bhawna Kanth commissioned in the first batch of female fighter pilots. They have about 150 hours of flying experience already.
Defence Minister Manohar Parrikar was present at the passing-out parade, which marks the successful completion of the pre-commissioning training of flight cadets belonging to different branches of the Indian Air Force. "This is just the beginning. Slowly, women in large numbers will be part of the armed forces," Parrikar reportedly told mediapersons in the previous week. The three inducted women pilots will now undergo their stage-III training for a year on Hawk advanced jet trainers, following which they will be allowed to fly supersonic warplanes.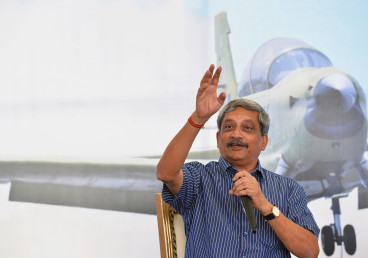 The Indian government approved a plan in October, pitched by the Indian Air Force, seeking induction of women fighter pilots. The historical move followed interest from six female flight cadets to become a part of the fighter squadron. However, only the three trainees eventually qualified to enter the fighter stream.
The three selected pilots had been advised by the air force authorities in March to refrain from becoming pregnant for the next four years. Their induction is on an experimental basis, which will be studied for the next five years, before the government takes a permanent stand on the inclusion of women fighter pilots.
"Feel confident and good, definitely. All our instructors were very supportive," Chaturvedi was quoted by The Indian Express as telling reporters following the graduation parade event.