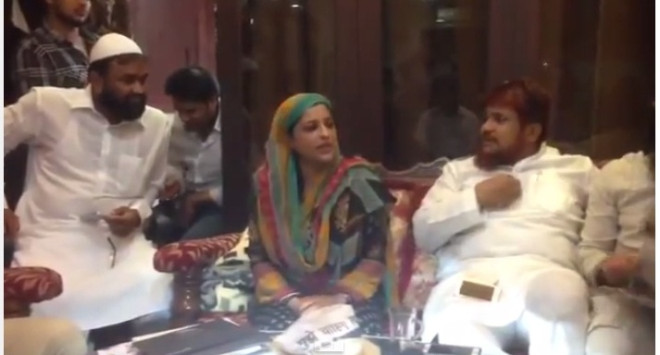 Comman Man Party leader Shazia IImi has defended her comments requesting that Muslims be "more communal" by saying she was using the words "in an ironic manner", according to an interview published in the Indian Express.
After a series of bombshell remarks by leaders of regional parties during elections in India, the controversial comments were delivered on 22 April by the founder-member of the Common Man's Party, Shazia Ilmi, who said that Muslims should not be too secular, and instead ought to be more communal.
In a video posted on Youtube - reportedly part of a sting operation - the leader had said: "I am saying Muslims are very secular. Muslims need to be communal. A Muslim is not communal - doesn't vote for his own. Arvind Kejriwal is one of you. You are too... don't be this secular. Look after your own homes [interests]."
Halfway through a five-week campaign aimed at India's 815 million voters, the Common Man Party leader then went on to say, in the Youtube video: "agree, this is controversial, but this is important."
When the video was made public, IImi did not deny or retract her comments but said that she could not remember exactly where she made such statements as she had attended many meetings.
"I haven't said anything wrong. Congress has done nothing for us all these years. This is my interpretation of secular versus communal," she later said, in an interview with a news channel.
"Communal means 'of the community', not in a hateful manner," she told the Hindustan Times.
However, party spokesman Manish Sisodia distanced itself from her remarks.
"It is wrong. She should not have said it. The party does not believe in this," he said.
Ilmi has a journalism background, was an anchor at a popular news channel and is experienced in taking on politicians for televised political debates.
Her father was founder-editor of the largest-selling Urdu newspaper in the city of Kanpur, in the northern state of Uttar Pradesh, and her family is known to have close ties with Congress.
It was only later on, in an interview with NDTV, that IImi called her statement "a play of words".
She said: "I was making fun of this word 'secularism' which is used all the time. I said Muslims never think of themselves, they have become political slaves to a party."
"It was more of a sarcastic comment," she added.
The Common Man Party won 40% of the seats in Delhi's assembly in December.
The 43-year-old fiery journalist-turned-politician IImi will stand in national elections from a Ghaziabad constituency in Uttar Pradesh.
The election season is rife with examples of politicians using religion to sway voters and polarize the electorate, but India's Election Commission (EC) has taken strong actions on all culpable cases.
A couple of weeks back, Azam Khan, a minister from Uttar Pradesh was banned from campaigning after a provocative speech at an election rally. Action was also taken against another politician Amit Shah on similar charges.
The EC issued notice to Khan and Shah, and they were asked to explain their stand.
Khan refused to bend, but Amit Shah apologized in writing saying that he will not use "abusive or derogatory language" in future, following which his ban was lifted.