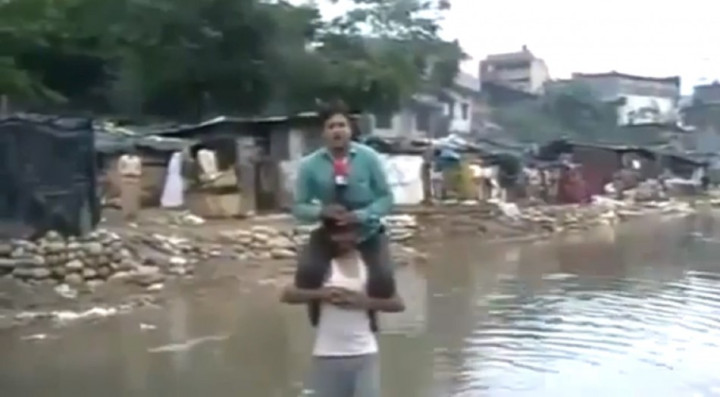 An Indian journalist who was sacked for filming a report on deadly monsoon floods while he sat on the shoulders of a survivor has claimed he was framed.
Narayan Pargaien was fired by News Express TV channel after his report on flash floods and landslides in Uttarakhand was described as "inhuman" by his boss.
Footage showed Pargaien speaking into camera while sitting astride a villager standing in muddy waters.
The video went viral and triggered widespread anger. Pargaien, however, claimed he had been set up by his cameraman.
"The report was supposed to be telecast only with footage of me chest-up," Pargaien told Indian media website News Laundry.
"This was entirely the cameraman's fault. [He] tried to sabotage my career by shooting from that distance and angle and releasing the video."
Pargaien claimed that the villager came forward and offered to carry him as "a mark of respect". The villager said he had never met such an important individual before, the presenter claimed.
"It wasn't my idea to begin with, but there was this man who took me to his home and asked me to report the damage he had suffered," the journalist said.
"His house was in a miserable condition and he had lost a lot in the flood and was left with very little food and water.
"We helped him with some food and some money and he was grateful to us and wanted to show me some respect as it was the first time someone of my level had visited his house," Pargaien said.
He accepted that the unorthodox report was wrong but that admission was too late to save his job.
"What he did was very inhuman. You cannot ride on someone's back for a story. We terminated him," Nishant Chaturvedi, channel head at News Express told AFP.
Flooding caused by monsoon rains have killed more than 1,000 people and washed away thousands of homes in Uttarakhand.