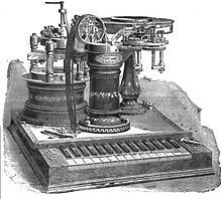 The last telegram will be sent in India this summer after the government decided it would close down the country's 163-year-old service.
State-owned telecoms company Bharat Sanchar Nigam Limited has decided to close down the service in July as it is no longer commercially viable.
"We were incurring losses of over $23 million a year because SMS and smartphones have rendered this service redundant," said Shamim Akhtar, general manager of BSNL's telegraph services.
Telegrams were introduced to India by the British colonial administration, with the first telegram in the country sent by William O'Shaughnessy, a British doctor and inventor in 1850, just five years after Samuel Morse sent the first ever telegram in Washington.
The telegram is credited with helping Britain's brutal suppression of the Indian Mutiny of 1857 by facilitating rapid communication and effective troop movements, and in 1947 prime minister Jawaharlal Nehru informed the British government of Pakistan's invasion of Kashmir in a 250-word telegram. Subsequently the messages became a staple of Indian life, where it was known as the "taar", or urgent message, and was often used to send news of births, marriages and deaths.
At their peak in 1985, 60 million telegrams sent and received in India from 45,000 dedicated offices.
Now, only 75 offices remain, and an industry that once employed 12,500, now has only 998 employees.
But some campaigners claim that telegrams still have a vital role to play in the country, and point out that 5,000 are still sent daily.
"I am a regular user of the telegram and it is an important tool for activists," AP Tripathi told the Christian Science Monitor. "For example, a telegram to a court informing them of illegal detention of a citizen by the police is taken as a writ petition."
Tripathi is so concerned that he has pledged to go on a Gandhi-style hunger strike until the government overturns its decision. He has notified officials of his plan... by telegram.