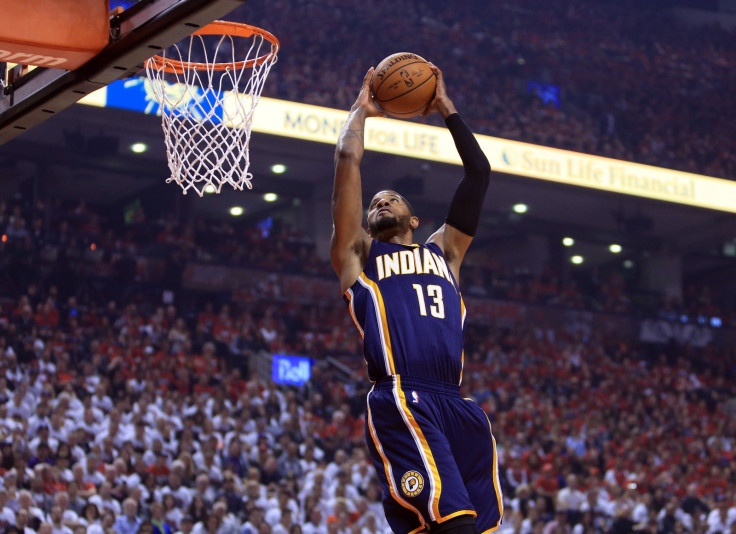 The Indiana Pacers will face off against the Denver Nuggets in the seventh NBA regular-season game to be played in the UK, it has been officially confirmed. NBA Global Games London 2017 takes place at the O2 Arena on 12 January and follows on from the Toronto Raptors' 106-103 overtime win over Eastern Conference rivals the Orlando Magic earlier this year.
Neither team has appeared on these shores previously and both were confirmed as participants during an announcement made at the league's European headquarters on Thursday afternoon (28 July). Their respective logos were also unveiled in a nifty piece of street art.
"We are thrilled to return for our seventh regular-season game in London," NBA commissioner Adam Silver said. "With almost 25% of players in the NBA born outside of the United States, we are seeing first-hand the global growth of our game, which has never been more popular in the U.K."
The Pacers finished seventh in the East last season in Paul George's first full campaign since suffering a gruesome leg break during a scrimmage for Team USA in Las Vegas two summers ago. They were eliminated in the first round of the playoffs following a game-seven defeat to the Toronto Raptors, and team president Larry Bird decided not to retain the services of long-serving head coach Frank Vogel.
Nate McMillan was subsequently promoted to the role and Indiana executed a three-team trade that sent George Hill to the Utah Jazz and brought All-Star point guard Jeff Teague back to his home state. They also recruited experienced centre Al Jefferson and traded the 20th pick in the draft, which later became Caris LeVert, to the Brooklyn Nets in exchange for Thaddeus Young before picking up ex-dunk champion Jeremy Evans from the Dallas Mavericks. Solomon Hill and Ian Mahinmi have both departed.
"I'm really excited and thankful the NBA is allowing us to reach out to our fans in London," George said. "This is great exposure for our team and our franchise. I think it will be a great experience for us and the fans in attendance."
The Nuggets, meanwhile, are in the midst of a youth movement under Michael Malone, spearheaded by the likes of Emmanuel Mudiay, Gary Harris, Nikola Jokic and Jusuf Nurkic. They drafted Jamal Murray, Juan Hernangomez and Malik Beasley with three picks in the top 20 and were reported to have offered veteran free agent guard Dwyane Wade a two-year deal worth in excess of $50m (£38m, €45m) before he opted to join his hometown Chicago Bulls. Point guard DJ Augustin signed for the Magic after playing 28 games in Denver.
On their trip across the Atlantic, Italian small forward Danilo Gallinari said: "It will be a true honour and a great experience to represent both the Nuggets and the NBA in London as part of the NBA Global Games in 2017. Our entire team and organisation are looking forward to this opportunity to showcase our league to fans overseas."