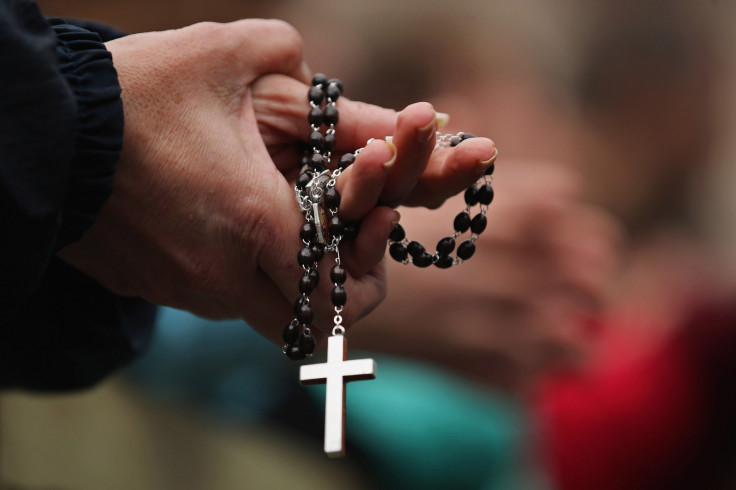 A 38-year-old Indiana high-school teacher became one of 230 consecrated virgins in the US after she "married" Jesus in a Catholic wedding attended by hundreds.
Jessica Hayes participated in a wedding ceremony, complete with a white wedding gown, to join the elite group of consecrated virgins in downtown Fort Wayne, Indiana. According to the Daily Mail, consecrated virgins are similar to nuns in that they live chaste lives, however, they do not live in convents and are not obligated to make a pledge of poverty.
Hayes, who teaches theology at Bishop Dwenger High School in Fort Wayne, told reporters she decided to become a consecrated virgin after spending years praying and soul-searching. "I think that in some sense, we're all called to be married. It's just a matter of discerning how. So, my marriage is to Christ and someone else's marriage is to their spouse," Hayes said to WANE.
The ceremony on 15 August, which was attended by hundreds of people, was conducted by Bishop Kevin C Rhoades at the Cathedral of the Immaculate Conception.
"It seems most appropriate that Jessica gives herself totally to Jesus, is consecrated to a life of virginity, on a feast of Our Lady, who gave herself totally to God as the virgin handmaid of the Lord," the bishop said during the ceremony.
The newly consecrated virgin was given a veil and a ring by the bishop, Today's Catholic reported. Hayes told the Catholic news site that she felt a "deep gratitude for the Church and for being Catholic, knowing whatever desire is placed upon our hearts by God, the Church as a place for us. And this is my place."
Hayes also told reporters, "I'm so happy to have had so many witnesses (at the wedding) because there may be others that the Lord is calling in this way that have now heard of this life and can consider it in their prayer."
According to the Daily Mail, like any other bride, Hayes spent a considerable time thinking about her wedding dress. She told WANE, "I've seen so many wedding dresses over the years that I think I've probably changed my mind very many times. I had to really consider the appropriateness of the occasion for my dress."
She added, "I wanted my shoulders to be covered, and I would have to lie prostate before the altar, so really wanted to make sure that I was well-covered in a way that still shows the beauty of a bride."
There are only 3,500 consecrated virgins in the world. Hayes is the first consecrated virgin at the Fort Wayne-South Bend Diocese in 25 years. Consecrated virgins must pledge to "persevere to the end of their days in the holy state of virginity and in the service of God and his Church" during their wedding ceremonies.