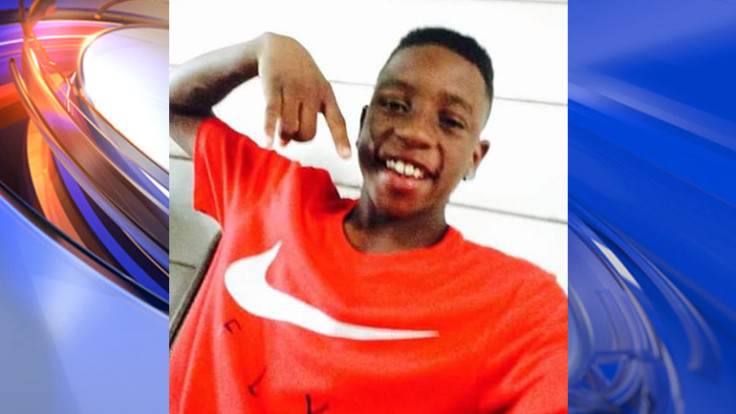 Indianapolis Metropolitan Police officers fatally shot a 15-year-old boy late on 9 August following a carjacking. The teenager, who allegedly stole the car along with two other individuals, was identified as Andre Green.
Police told reporters that officers followed the car from an armed carjacking around 10.15pm in the 3100 block of Tompkins Square Court, CBS 4 Indy reported. The three suspects allegedly shot at civilians as they fled the scene of the crime.
According to CBS 4 Indy, police found a vehicle matching the description of the stolen vehicle around 11pm. The vehicle turned into a cul-de-sac, leading police to turn on their lights to initiate a traffic stop. However, instead of stopping, the stolen vehicle crashed into the driver's side of a squad car, a spokesperson for the police said.
Green's alleged accomplices ran out of the vehicle, leaving Green alone. The 15-year-old reportedly refused to comply with police request to exit the vehicle, instead he tried to run down the officers with the car.
Three officers, who have since been placed on administrative leave, shot at Green. The teenager then exited the vehicle, handgun in hand, and collapsed. He was pronounced dead at the scene, CBS 4 Indy reported.
IMPD Assistant Chief Lloyd Crowe told reporters during a news conference that there were no dash cam, body cam or civilian video of the incident. Crowe said the officers fired because they believed their lives were in danger.
"Not only did this young man have the propensity to use a firearm, but he also had the car to use as a weapon," he said.
Crowe declined to comment on Green's criminal history, but confirmed that the teen was wearing an ankle bracelet at the time of his shooting. "There were demonstrations from his social media and other things that led us to believe this young man was going down the wrong path," he said.
However, family members told reporters they were hearing conflicting stories about the shooting. "Some people are saying he got out with hands up, but police are saying another story," Green's great aunt Angela Lamb said.
Witness Allen Eaton told the Indy Star that it appeared Green was not trying to run the officers down, but instead was bumping into other vehicles as he attempted to turn around. Eaton said he believed the shooting was unjustified.
"He didn't do nothing that made like he was threatening their life," Eaton said.
According to the Indy Star, police declined to reveal how many rounds officers fired at the teen. The two other passengers have yet to be found.