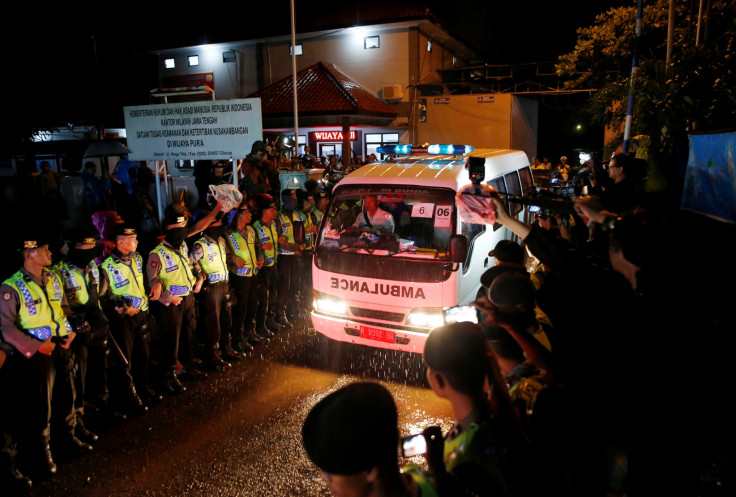 After a year-long execution hiatus, Indonesia has killed four people convicted of drug offences by firing squad. Ten other prisoners who were also sentenced to death were given a last-minute reprieve, but it is not known why, or whether they face execution in the coming days.
One Indonesian and three Nigerians were killed shortly after midnight (5.00pm GMT) amid torrential downpours on Friday (29 July). The executed Indonesian was named as Freddy Budiman while the Nigerians were identified as Seck Osmane, Humphrey Jefferson Ejike and Michael Titus Igweh.
The executions took place on the penal island of Nusa Kambangan, commonly known as the Indonesian Alcatraz. According to the Sydney Morning Herald, Deputy Attorney General for Crimes, Noor Rachmad said: "This is not a fun job. For us, this is really a sad job because it involves people's lives." He added: "This was done not in order to take lives but to stop evil intentions, and the evil act of drug trafficking."
The state killings are the third round of executions under current president, Joko Widodo. Earlier in the day, 17 ambulances were dispatched to the prison island, located in central Java. According to the Jakarta Post, 14 of the 17 emergency vehicles were carrying coffins.
Amnesty International lamented the incident in the aftermath of the killings. "The execution of at least four people tonight by the Indonesian authorities is a deplorable act that violates international law," said Rafendi Djamin, Amnesty International's Director for South East Asia and the Pacific. "Any executions that are still to take place must be halted immediately. The injustice already done cannot be reversed, but there is still hope that it won't be compounded."
Ahead of the planned executions, the European Union (EU) called on Indonesia to stop all practice and join a global community which does not use the death penalty. "The EU is opposed to capital punishment without exception and has consistently called for its universal abolition," it said in a statement on 28 July.
"The death penalty is a cruel and inhumane punishment, which fails to act as a deterrent and represents an unacceptable denial of human dignity and integrity," it added.
The latest round of executions received far less media coverage than those that took place last year. In April 2015, Australian pair Andrew Chan and Myuran Sukumaran were executed for drug smuggling.
Earlier this week Sukumaran's mother, Raji, penned a letter to Widodo pleading with him to show mercy. "I don't know these people or their crimes. I don't know their family, friends or children," she wrote in the letter, according to ABC News.
"I do know my son who you brutally took from me last year as he was executed in the most horrible way," Sukumaran continued. "I am writing to you today to again ask for mercy, please do not kill these men and women. They are someone's son, daughter, father, mother, sister, brother, friend.
"I can't help but think of the last days I had with my son as we struggled to say goodbye."